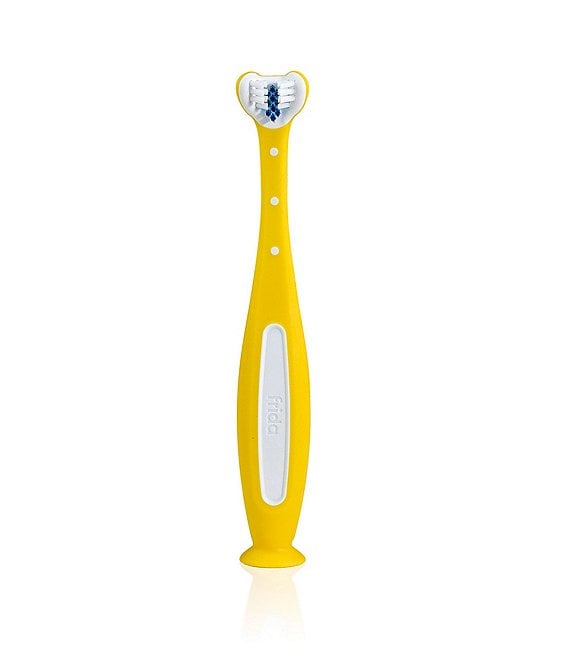 Fridababy
Triple-Angle Toothhugger Toothbrush
Rated 4.77 out of 5 stars
Rated 4.77 out of 5 stars
Rated 4.77 out of 5 stars
Rated 4.77 out of 5 stars
Rated 4.77 out of 5 stars
108 Reviews
Rated 4.77 out of 5 stars
From Fridababy, this baby toothbrush features:
TRIPLE-ANGLE BRUSH. Dentist-recommended, unique brush head cleans all sides of the tooth all at once
attacks plaque fast by cleaning all sides at once
Specially designed with little brushers in mind, its easy-to-hold handle suctions to surfaces, while soft bristles are gentle on sensitive gums
TIME-TO-TOSS INDICATOR: Blue bristles fade to white, so you know when to replace
LEARN TO BRUSH: Designed for toddlers, this toothbrush is a great way to help your little one practice proper brushing techniques, with your help.
SOFT AND GENTLE: Soft, rounded bristles are gentle on your little one's teeth and gums.
Imported.
*Returns not accepted on any opened, used, or defective product. Contact manufacturer customer service directly for defective products/parts.
Frida is the brand that gets parents. That means you. We are not a lifestyle. Far from it. We are a solution-based brand. The 411 of parenting. The who-do-I-call-in-the-middle-of-the-night-cause-my-baby-won't-stop-screaming brand.
Ratings & Reviews
4.77
Rated 4.77 out of 5 stars
Rated 4.77 out of 5 stars
Rated 4.77 out of 5 stars
Rated 4.77 out of 5 stars
Rated 4.77 out of 5 stars