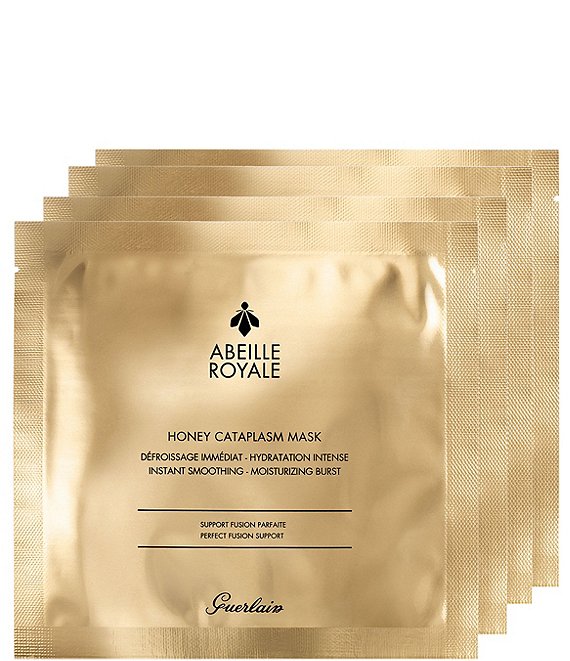 Guerlain
Abeille Royale Honey Cataplasm Mask (4-pack)
Description
The Abeille Royale Honey Cataplasm Mask is the latest-generation cataplasm mask, inspired by honey dressings. The mask adheres to the skin and molds itself to the facial contours. It leaves the skin feeling instantly smoothed and hydrated. Wrinkles and fine lines are visibly diminished and skin appears plumper.
Apply the mask on cleansed skin instead of your usual serum:
1. Open the mask and remove the first protective sheet.
2. Apply the mask to your face.
3. Using the tab, remove the second protective sheet.
4. Leave the mask on for 15 minutes.
Bee products are some of the world's most effective natural healing substances. Guerlain Research has extracted their powerful active ingredients to create the Abeille Royale skincare collection. This collection features a repairing concentrate that stimulates key skin repairing mechanisms that continuously help to diminish wrinkles and maintain firmness.
A blend of carefully chosen bee products:
Ouessant Island honey, Corsican honey, New Zealand Clover honey and a royal jelly exclusive to Guerlain harvested in France.
Ouessant Honey Just 18km off the coast of Brittany is the Island of Ouessant, a UNESCO Biosphere Reserve with an ecosystem that is parasite-free and protected from pesticides.
On this island, the Black Bee produces honey, with exceptional properties. Rich in amino acids, trace elements and high in fructose-content, this honey offers the essential ingredients that are vital in the repair process of skin tissue.
Guerlain Exclusive Royal Jelly Royal Jelly is the most precious substance to be produced by bees. It is reserved exclusively for feeding queen bees and offers regal nourishment for the skin as well.
Guerlain developed its own Exclusive Royal Jelly in order to guarantee its quality and purity. This Royal Jelly is rich in exceptional nutrients and is a natural source of carbohydrates, proteins, lipids, and vitamins. It is produced in a protected environment and offers exceptional benefits for the skin.
After application:
Instantly smoothed lines:
the appearance of wrinkles -27%* the hydrated appearance of skin +27%**
After one month: The features appear rested: +33%*** Skin is more luminous: +50%*** *Instrumental test, 16 volunteers, single application **Self-evaluation, 32 women, single application ***Assessment conducted by a dermatologist, 32 women, twice-weekly application, over 4 weeks