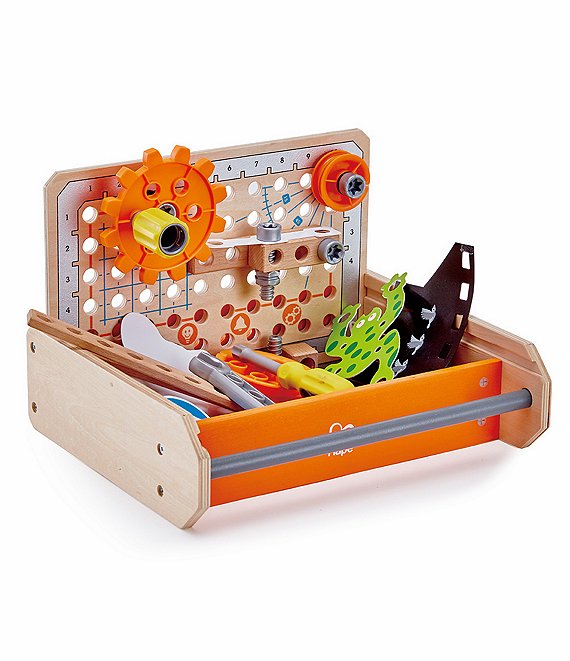 Hape
STEAM Science Experiment Toolbox
Description
From Hape, this toy features:
Science toolbox with more than six experiments
Ideal for younger ages thanks to child-friendly pieces, simple assembly and clear instructions
Contains everything needed to undertake six experiments and construct moving machines including a bell ringer, a cogwheel sound maker, a zoetrope, a waving hand, a climbing frog, and a crane.
Plastic parts include: Three long bolts, two short bolts, four nuts, two cap nuts, one big pulley, one small pulley, one big cog, one handgrip, one screwdriver and one wrench
Wooden parts include: One single hole cube, one triple-holed rectangular block, one 5-holed strips, one 7-holed strips, one hanger, and one 9-holed strips
Soft parts and accessories include: One silicon belt, one bell, one zoetrope, one frog, one gasket and one hand
Introduces children to the process of experimentation and concepts including energy transfer, momentum and gravity
Components and tools designed for children's hands and skill levels
Great for developing logical thinking and an understanding of science, technology, engineering, art and mathematics (STEAM) principles
For ages 4+
Imported.
Ratings & Reviews
Tell us what you think!
Empty Star
Empty Star
Empty Star
Empty Star
Empty Star
No reviews
Write a Review