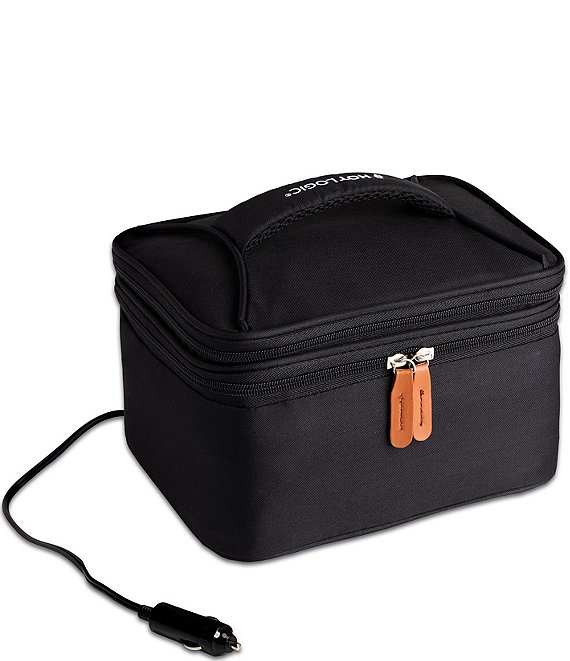 Hot Logic
Portable Oven and Food Warmer Expandable Lunch Tote Bag 12V Car Plug
From Hot Logic, the Expandable Food Warming Tote/Lunch Bag 12V features:
Ideal for cooking healthy dishes, heating frozen boxed meals and warming comfort food while driving, whether you are a busy carpooling mom, truck driver, delivery person, business traveler, or off site work crew
Evenly cooks or reheats fresh or frozen meals even leftovers in about an hour without burning or drying out your food
Requires no monitoring just place your meal inside, plug it in, and go about your day, whether it is work or play
Unzips and expands into a handy tote for carrying non perishable food items, utensils, tableware, and other accessories, all contained separately from the warming section
12V connector that plugs into your vehicle DC power outlet
Compatible with most flat bottom containers with sealable lids, including glass, plastic, Tupperware, metal, aluminum foil, and cardboard
Accommodates container approx. 8.75"W x 6.75"L x 2.5"H.
Backed by Hot Logic make it right guarantee, one-year warranty and a customer service team that has one job: to leave you utterly and completely overjoyed
Imported.
DMS: 0725 193 16801174-BLK
Announcing an evolution in cooking technology. Imagine never having to read a cooking label, set a timer, adjust a temperate, turn on a burner… flip, stir, turn, rotate or even remove your food until you're ready to eat!

The cooking technology of tomorrow is here today! It's called Smart Shelf Cooking by Hot Logic and it's like nothing you've ever seen, and everything you've always dreamed of!

The Hot Logic uses low-slow conduction heat to bring foods to the ideal temperature and can hold it there for hours without overcooking or drying the food out! You can use any flat-bottom container made of glass, plastic, Tupperware, or metal as long as it had a sealed lid.
Ratings & Reviews
No reviews
Rated 0 out of 5 stars
Rated 0 out of 5 stars
Rated 0 out of 5 stars
Rated 0 out of 5 stars
Rated 0 out of 5 stars