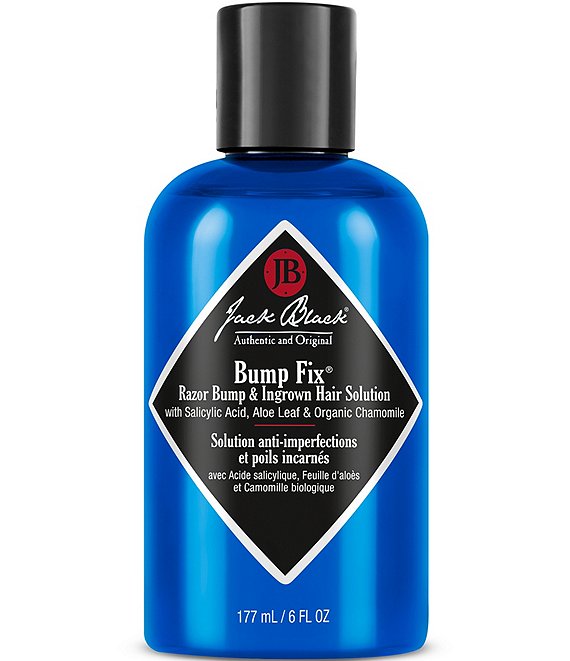 Jack Black
Bump Fix® Razor Bump & Ingrown Hair Solution
Rated 5 out of 5 stars
Rated 5 out of 5 stars
Rated 5 out of 5 stars
Rated 5 out of 5 stars
Rated 5 out of 5 stars
2 Reviews
Rated 5 out of 5 stars
Jack Black Bump Fix® Razor Bump & Ingrown Hair Solution
This powerful multi-acid solution helps reduce the appearance of razor bumps, ingrown hairs, blackheads, and acne blemishes while hydrating and soothing ingredients counteract dryness and irritation. Formula works to exfoliate dead skin cells and dissolve pore-clogging facial oils that can cause a buildup of dirt, debris, and skin-trapped facial hairs that can lead to blemishes and razor bumps.
Usage:
Apply to clean skin. Moisten a cotton pad and cover the entire affected area (face, neck, back) with a thin layer, one to three times daily. Do not rinse.
Until skin acclimates to the treatment, begin with one application daily, at night; gradually increase usage to two or three times daily.
To minimize the chance of irritation or stinging, wait 30 minutes after shaving to use this product.
Apply before your post shave gel, moisturizer, or sun protection.
6 fl. oz. bottle
D/M/S: 0049 692 2022
When we started this journey over 20 years ago, we knew one thing for certain: There were plenty of skincare companies that made luxury, efficacious products for women, but no one was addressing the needs of the modern man.

So we stayed close to our customers (we still do) and listened to what they wanted–and what they didn't.

What they wanted were no-nonsense products that worked as advertised and used the best ingredients–and were never, ever tested on animals.

Nothing complicated. Nothing cosmetic. Just superior skincare.
Ratings & Reviews
5
Rated 5 out of 5 stars
Rated 5 out of 5 stars
Rated 5 out of 5 stars
Rated 5 out of 5 stars
Rated 5 out of 5 stars