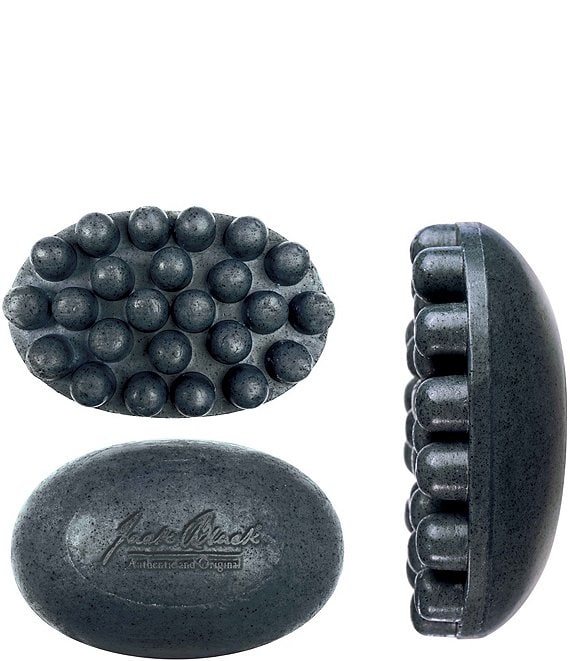 Jack Black
Charcoal Body Bar Massaging Soap
Rated 5 out of 5 stars
Rated 5 out of 5 stars
Rated 5 out of 5 stars
Rated 5 out of 5 stars
Rated 5 out of 5 stars
3 Reviews
Rated 5 out of 5 stars
This multitasking body bar cleanses and exfoliates skin, while unique nubs massage muscles and relieve tension. Charcoal deodorizes skin and works to absorb odors and remove buildup by drawing it to the surface of the skin. Jojoba beads remove dead skin cells, revealing smoother, softer skin.
Usage:
Apply the side with massaging nubs to wet skin on body, arms, and torso, using very light pressure.
Lather and rinse clean. The jojoba beads provide the scrubbing action so use gentle, light strokes when applying the bar to the skin.
Do not use in sensitive areas with thin skin.
When we started this journey over 20 years ago, we knew one thing for certain: There were plenty of skincare companies that made luxury, efficacious products for women, but no one was addressing the needs of the modern man.

So we stayed close to our customers (we still do) and listened to what they wanted–and what they didn't.

What they wanted were no-nonsense products that worked as advertised and used the best ingredients–and were never, ever tested on animals.

Nothing complicated. Nothing cosmetic. Just superior skincare.
Ratings & Reviews
5
Rated 5 out of 5 stars
Rated 5 out of 5 stars
Rated 5 out of 5 stars
Rated 5 out of 5 stars
Rated 5 out of 5 stars