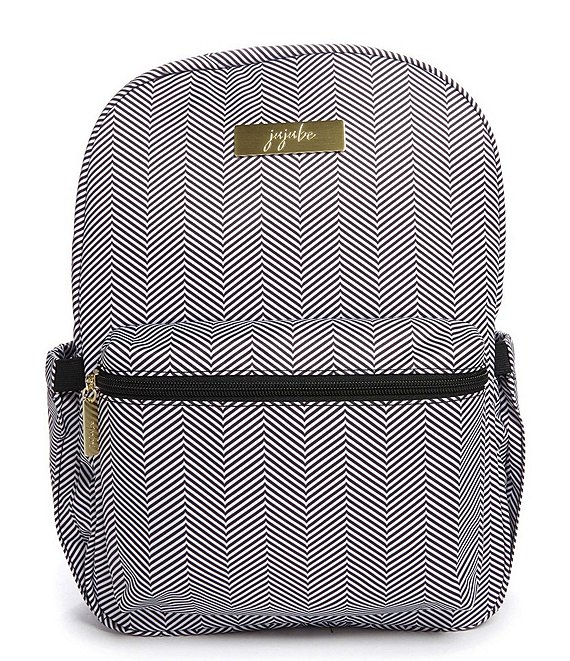 Ju-Ju-Be
Midi Backpack - The Queen
Rated 4.81 out of 5 stars
Rated 4.81 out of 5 stars
Rated 4.81 out of 5 stars
Rated 4.81 out of 5 stars
Rated 4.81 out of 5 stars
191 Reviews
Rated 4.81 out of 5 stars
From Ju-Ju-Be, this bag features:
Pockets – 1 front zipper pocket, 2 elasticized bottle pockets, 1 interior zippered pocket in main compartment, 3 interior elasticized pockets
Fabrics – Light-colored lining; highly stain resistant material; interiors treated to resist bacteria, mold and mildew
Straps – Lightweight adjustable webbing backpack straps
Hardware – Metal hardware
Dimensions – 9.5"W x 4"D x 14"H
Weight – 0.6 pounds
Extras – Machine washable; Limited lifetime warranty
Imported
For parents by parents! JuJuBe offers intelligently-designed, premium bags for moms, dads, and kids. With over 15 years of innovation, our design team has thought of every detail to make it easier for life's little adventures.

Started by Joe Croft and Kristin Hunziker, industry veterans from the apparel, outdoor and action sports industries, JuJuBe has always stood for something MORE than average. Something MORE than normal. More functional, more fashionable, more concerned about the environment, community, and inclusivity. More supportive of mom-centric causes. More fun. More real. JuJuBe thinks that MORE is MORE in every way.

When our first premium diaper bags were introduced in 2005, they included innovation light years ahead of the competition. Anti-stain treatments, anti-microbial linings, memory foam changing pads, and machine washability to name a few. In 2007, JuJuBe introduced an unparalleled lifetime warranty. (Yes, the bags are that good!) We're proud to see bags that are still in use after more than a decade. With over a million bags sold, we've grown a lot, but we are and will always be a proud Southern California company that uses science, style, and attitude to create premium diaper bags, purses, and accessories that remain unrivaled in the industry.
Ratings & Reviews
4.81
Rated 4.81 out of 5 stars
Rated 4.81 out of 5 stars
Rated 4.81 out of 5 stars
Rated 4.81 out of 5 stars
Rated 4.81 out of 5 stars