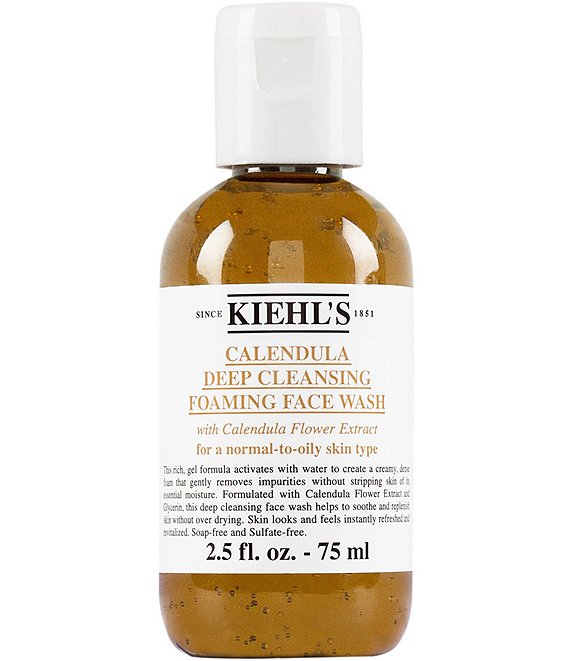 Kiehl's Since 1851
Calendula Deep Cleansing Foaming Face Wash, 2.5 oz.
Full Star
Full Star
Full Star
Full Star
Half Star
116 Reviews
A travel size highly effective foaming cleanser that replenishes and soothes skin. Cleanse and refresh skin with our efficacious foaming cleanser. Infused with Calendula and Glycerin, this creamy gel formula activates with water to create a dense foam. Cleanse away impurities and dirt with this effective, yet gentle cleanser for oily skin and normal skin.
Gently lifts away impurities, dirt and oil
Deeply cleanses skin without over drying or stripping
Help skin look and feel instantly refreshed and revitalized
Formulated with Calendula Extract and Glycerin
For normal skin and oily skin
Ingredient Focus:
While Kiehl's has been infusing products with Calendula since the 1960s, the healing properties of this plant date back to the 12th century. Calendula was used as a traditional ingredient in Chinese medicine long before it made it into Kiehl's cult-favorite skincare products.
Key Ingredients:
Calendula - Native to the Mediterranean, Calendula Extract and Calendula Petals are known for their skin soothing properties and are commonly used in skincare products for oily skin types.
For many centuries, Calendula has been highly regarded as a medicinal herb in both Ayurvedic and traditional Chinese medicine.
Glycerin - Glycerin, a well-known skincare ingredient, is highly compatible and naturally occurring within skin.
Within our formulas, it is a powerful humectant known to help retain moisture and soften skin.
Ratings & Reviews
4.53
Full Star
Full Star
Full Star
Full Star
Half Star