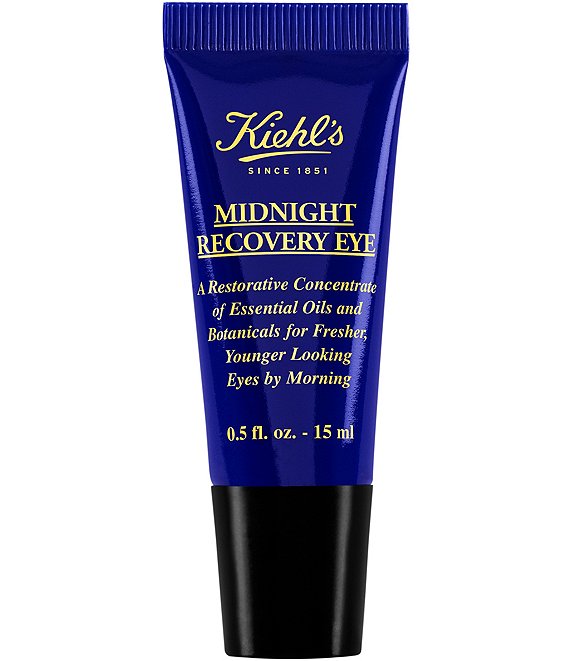 Full Star
Full Star
Full Star
Full Star
Half Star
164 Reviews
What It Is:Kiehl's replenishing eye cream for dark circles and puffiness helps restore the eye area for a smoother appearance. Infused with Butcher's Broom Extract, Lavender Essential Oil and Evening Primrose Oil, the formula helps smooth and restore the eye area. Use this eye cream at night and wake up to fresher, younger-looking eyes by morning.What It's Good For:
Helps diminish the appearance of dark circles and eye puffiness
Leaves the eye area feeling strengthened and replenished
Smoothes and restores the area while you sleep
Key Ingredients:
Butcher's Broom Extract - Butcher's Broom Extract, or Ruscus Aculeatus Root Extract, has been used for centuries in apothecary remedies. Within Kiehl's formula, Butcher's Broom Extract is known to help reduce under-eye puffiness.
Lavender Essential Oil - Steam-distilled from Lavender, an adaptogen in the mint family, Lavender Essential Oil is known for its soothing and calming properties. With a luxurious, calming aroma, Lavender Essential Oil is often used to relax the senses in preparation for sleep.
Evening Primrose Oil - Evening Primrose Oil is extracted from the ripe seeds of the Evening Primrose, a flowering plant that blooms every other year. Frequently used in herbal remedies, Evening Primrose Oil is known to help maintain skin hydration and elasticity.
Squalane - A signature Kiehl's ingredient, Squalane is a highly-refined botanical lipid derived from olives. With an exceptional affinity to skin, Squalane absorbs easily and is known to help replenish skin's barrier keeping it soft, supple and moisturized.
How to Apply:
Dispense 1-2 drops of eye treatment onto fingertips
Gently pat under eyes and along the orbital bone without pulling skin
Can be used day and night time
Did You Know?The delicate skin around the eye is actually thinner than the rest of the skin on your face and is often the first place to look tired or show fine lines. Using Midnight Recovery Eye at night – when your skin is naturally repairing and recovering from daily aggressors – helps enhance skin's restorative process for well-rested, younger-looking eyes by morning.
Ratings & Reviews
4.4
Full Star
Full Star
Full Star
Full Star
Half Star