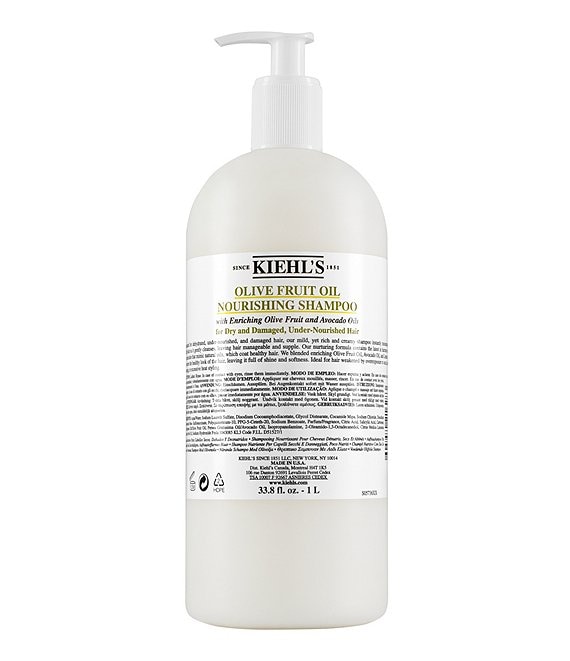 Rated 4.53 out of 5 stars
Rated 4.53 out of 5 stars
Rated 4.53 out of 5 stars
Rated 4.53 out of 5 stars
Rated 4.53 out of 5 stars
103 Reviews
Rated 4.53 out of 5 stars
A mild, yet rich and creamy shampoo for dry, under-nourished hair.
Product Details:
Nourishes and hydrates hair as it gently cleanses, leaving hair manageable, supple, and full of shine, without weighing it down
Contains Olive Fruit Oil, Avocado Oil, and Lemon Extract, to hydrate, lock in moisture and promote shine
How To Apply:
Wet hair thoroughly
Apply a small amount to palms and gently massage throughout the hair and scalp area with fingertips
Rinse well
Key Ingredients:
Avocado Oil - Avocado Oil, derived from the fruit of a tropical American tree, is a rich, fatty-acid emollient known to be the most moisturizing of any fruit oil. It is also a natural source of amino acid proteins, Vitamins A, D, E and Potassium.
Lemon Fruit Extract - Lemon Fruit Extract has a high percentage of Vitamin C and is known for its astringent and antiseptic qualities. Within our formulas, it helps freshen and stimulate skin.
Olive Fruit Oil - Olive Fruit Oil is obtained by cold pressing ripe olives. This extra virgin oil contains fatty acids and Vitamin E. Within our formulas, it is known to nourish and moisturize skin and hair.
The original Kiehl's apothecary first served patrons in 1851, at the corner of 13th Street and Third Avenue in New York City.

In 1894, after honing his trade as an ambitious apprentice, pharmacist John Kiehl purchased the apothecary. John Kiehl & Co. began operations under "Kiehl Pharmacy."

Mr. Irving Morse, John Kiehl's apprentice, took over the business in 1921 and expanded the offerings to a full-service pharmacy, stocking teas, herbs, tinctures, honeys, and the first-ever Kiehl brand products, including the Original Musk Oil, our signature scent.

In 1924, Kiehl's became one of the first companies to proudly list ingredients on its product labels — even before the U.S. government mandated it — to help customers make more informed and confident purchasing decisions.

Kiehl's Pharmacy began introducing bold new products in 1962, such as Calendula Herbal-Extract Toner, Blue Astringent Lotion (loved by Andy Warhol), Kiehl's Lip Balm #1, and Ultra Facial Moisturizer — all still among our best sellers today.

In 2006, Kiehl's introduced Dermatologist SolutionsTM, a collection of advanced skincare formulated by Kiehl's chemists (and developed in collaboration with an advisory panel of leading dermatologists) to address specific skin concerns.

Today, our nature-inspired, scientifically-proven formulas are powerful yet safe and help improve overall skin quality for visibly healthier-looking skin.
Ratings & Reviews
4.53
Rated 4.53 out of 5 stars
Rated 4.53 out of 5 stars
Rated 4.53 out of 5 stars
Rated 4.53 out of 5 stars
Rated 4.53 out of 5 stars