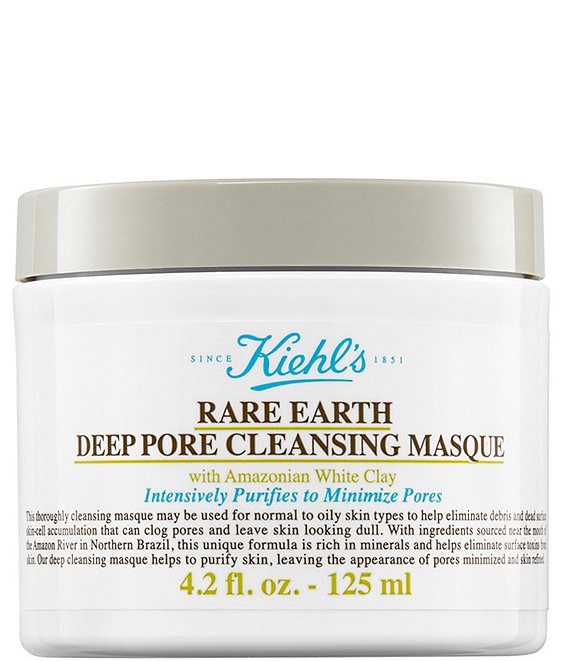 Kiehl's Since 1851
Rare Earth Pore Cleansing Treatment Masque
Full Star
Full Star
Full Star
Full Star
Half Star
194 Reviews
A mask that helps to purify skin and visibly minimize pores.
Product Details:
formulated with Amazonian White Clay to gently draw out oil, dirt and toxins that clog pores
Oatmeal and Aloe Vera help to soothe
Key Ingredients:
Bentonite: Found in Canada and the Midwest, this is a colloidal aluminum silicate clay used as a suspending agent in a variety of skincare formulas, including lotions and makeup. Because it absorbs oil, it is often used as a facial mask to reduce shine. Also helps to stabilize formulas.
Aloe: Widely used for centuries in traditional and herbal medicine for its skin-soothing benefits. It's also known to possess hydrating properties and help increase the water content in skin. Our Aloe is sourced from the leaf of the Aloe Vera print growing in the Dominican Republic.
Amazonian White Clay: Helps purify and and detoxify skin. This clay is known to remove bacteria, toxins, excess oil and dead cells that can clog skin and result in enlarged pores.
How to Use:
Apply a thin layer to damp, clean skin, avoiding the immediate eye area, and allow to dry (approximately 10 minutes).
When dry, gently remove using a warm, wet towel and gently pat dry.
Recommended for use once or twice a week.
5 oz.
Ratings & Reviews
4.72
Full Star
Full Star
Full Star
Full Star
Half Star