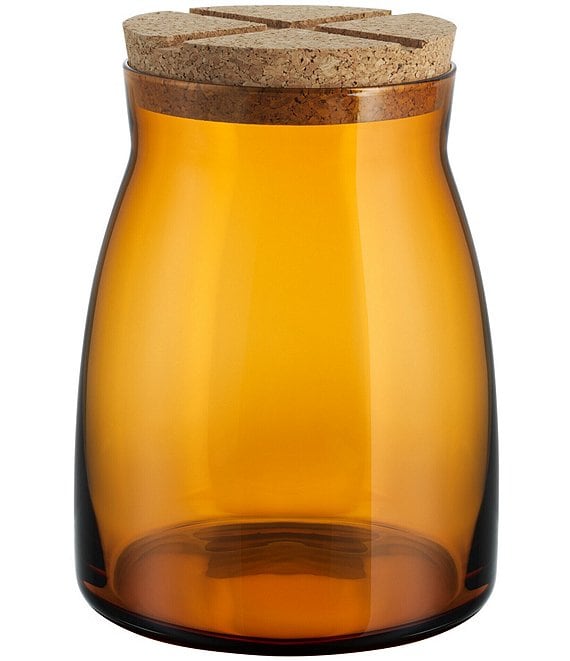 Kosta Boda
Bruk Jar With Cork Lid, Large
Beautiful open storage calls for good looking jars. With Bruk jars, the goodies are also ready to be served at a nicely set table. The mouth blown handmade Bruk jars come in a range of three sizes, in clear glass as well as in transparent colour. The jars durable and user friendly. Designed with an airtight lid made of cork.
Designed by Anna Ehrner
Mouth-Blown Glass/Cork lid
Approx. 6.625" x 5.25"
Capacity approx. 57 oz.
Jar is Dishwasher safe, wash cork by hand
Each sold separately
Imported.
Following the journey of glass from a syrupy, molten state to glittering crystal is a spectacular sight that takes place in the Kosta Boda hot shops every day.

Designers, glassblowers, cutters, painters and engravers play their part in this skilled work every day, and each glass from Kosta Boda is a unique and sophisticated piece of craftsmanship. By the time the finished glass leaves the glassworks, no fewer than 15 different people have contributed to the production process.

Since 1898, art and crystal glass for everyday use has been produced under the brand of Orrefors. At our glassworks in Kosta, our skilled glassworkers are joined by several of Sweden's most prestigious designers in developing the design, craftsmanship and new techniques. A smaller part of our production has been produced at other renowned glassworks, mainly in Europe, since 2004. A few products are produced in Asia. At all glassworks, we use the same designers and in many cases the production techniques developed by ourselves in Småland, Sweden.
Ratings & Reviews
No reviews
Rated 0 out of 5 stars
Rated 0 out of 5 stars
Rated 0 out of 5 stars
Rated 0 out of 5 stars
Rated 0 out of 5 stars