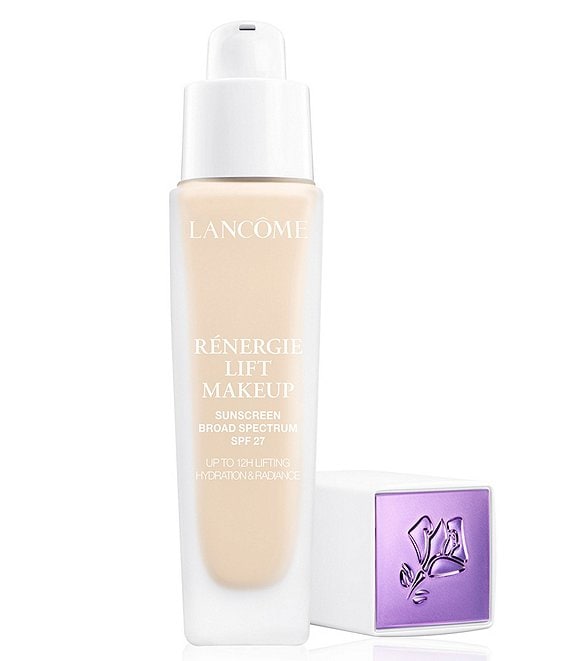 Lancome
Renergie Lift Makeup Foundation
Full Star
Full Star
Full Star
Full Star
Half Star
650 Reviews
Up to 12-Hours of Lifting, Hydration, and Radiance

What It is:
A luminous foundation with up to 12-hours of lifting and hydration for medium-to-full coverage, re-formulated with added active skincare ingredients.

What It Does:
A comfortable, medium-to-full coverage foundation formulated with anti-aging properties the Rénergie line of products is known for. Including SPF 27, it lifts and hydrates for up to 12-hours, while, minimizing the appearance of dark spots for a luminous finish.

How To Apply Rénergie Lift Makeup Foundation:
After cleansing skin, apply a face primer. Lancôme suggests La Base Pro Perfecting Makeup Primer. Using a makeup brush, beauty blender tool (use wet for even more coverage) or fingers, apply Rénergie Lift Makeup Foundation onto skin for desired coverage. Finish makeup application with Lancôme's Blush Subtil on cheeks, L'Absolu Rouge lipstick and any one of Lancôme's award-winning mascaras for that extra dose of Parisian chic!

Tools To Use For Desired Foundation Makeup Coverage:
For medium coverage, use sponge or beauty blender tool (lightly damp or dry). For full-coverage makeup, use fingers and/or a wet beauty blender tool.

What Is My Skin tone? What Is Your Skin's Undertone? Lancôme's products are organized by both intensity (I, II, III, IV, V) and by undertone (C, N, W.) Intensity: The intensity of a Lancôme product is organized by surface skin color. Hues are organized by Intensity I, Intensity II, Intensity III, Intensity IV, and Intensity V. Undertones: Cool (C) undertones = foundations and powders look slightly pinkish. Bare skin has a rosy undertone and usually burns easily in the sun. Veins appear blue. Neutral (N) undertones = bare skin is a bit more even-toned, not too pink or too golden. These usually work best for olive skin/olive undertones ("green"), but it is still best to test out first on the skin for the perfect match! Veins appear in a mix of green and blue. Warm (W) undertones = bare skin appears golden/yellow and tans easily in the sun. Olive skin can sometimes skew warm as well for those with a slightly more gold hue. Veins appear green.
Lancôme successfully combines scientific expertise and an intuitive understanding of women's needs to produce major innovations, unique and complementary between skincare, makeup and perfume. Lancôme affirms that happiness is the most attractive beauty. More than ever before, the brand aims to offer every woman the possibility to blossom and embrace her beauty and femininity whatever her age or skin color.
Ratings & Reviews
4.17
Full Star
Full Star
Full Star
Full Star
Half Star