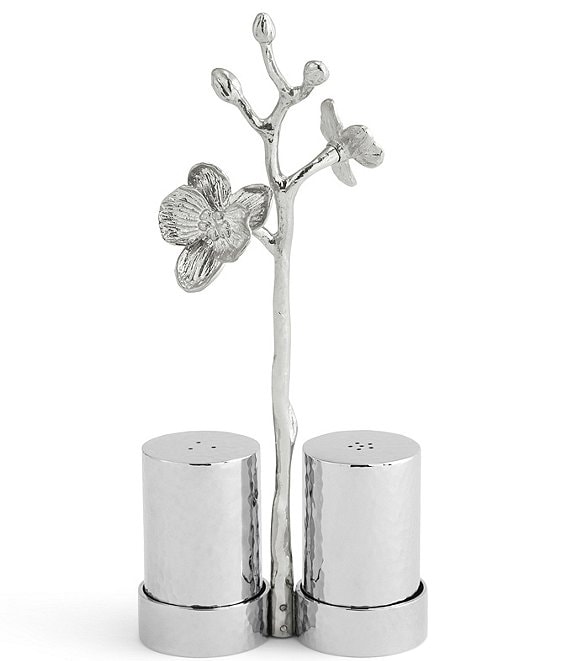 Michael Aram
White Orchid Salt & Pepper Set with Caddy
The White Orchid collection by Michael Aram was inspired by the ethereal spirit of the orchid flower. While the sculpture of the orchid is exuberant and detailed, these flowers take on a simplicity that is completely unique. The collection has an strikingly different appeal than its Black Orchid counterpart, exuding feelings of purity, delicacy, femininity, and grace.
"There is something so seductive about orchids. In white nickel, they take on a completely different meaningan element of brightness that I associate with new beginnings. When I think of white orchids, I imagine the purity and sweetness of a newborn child, or a newlywed couple at the beginning of their lifelong journey.
From the White Orchid collection by Michael Aram, this three-piece set features:
salt and pepper shakers with caddy
nickelplate; stainless steel
hand wash
shakers approx. 2.5 x 1.5" each
caddy approx: 2 x 3.75 x 8.25"
Imported.
Michael Aram is an award-winning American Armenian artist who has dedicated his career to craft-based design. Inspired by a trip to India at age 25, he established a second home and studio there, where he continues to draw creative inspiration today.

Trained as a painter, sculptor, and art historian, Michael has neatly applied his diverse background to the decorative arts. Lyrical and often witty, his work encompasses a wide range of media and reveals a rich and variant source of inspiration – nature, mythology, narrative storytelling, and purified form. Michael's work is also a celebration of craft and age-old hand working traditions. It is the enduring fusion of these ideals – originality, narrative, and craftsmanship – that has become the hallmark of this gifted artist.
Ratings & Reviews
No reviews
Rated 0 out of 5 stars
Rated 0 out of 5 stars
Rated 0 out of 5 stars
Rated 0 out of 5 stars
Rated 0 out of 5 stars