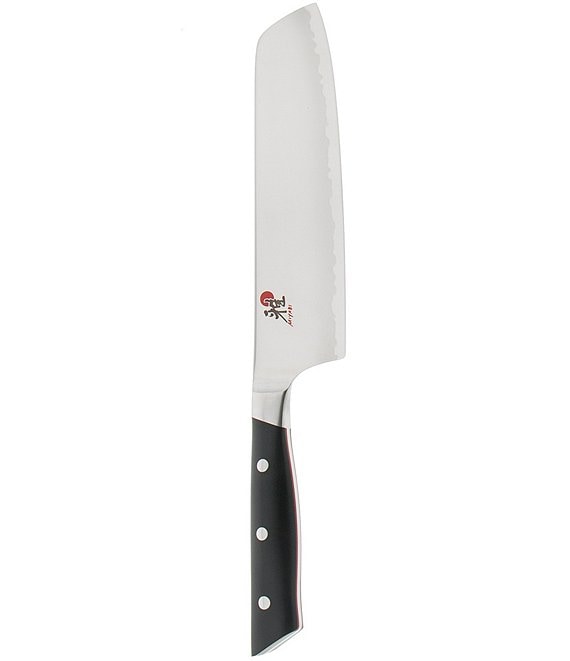 Miyabi
Evolution 6.5" Nakiri Knife
Rated 4.91 out of 5 stars
Rated 4.91 out of 5 stars
Rated 4.91 out of 5 stars
Rated 4.91 out of 5 stars
Rated 4.91 out of 5 stars
47 Reviews
Rated 4.91 out of 5 stars
MIYABI merges Japanese craftsmanship with German engineering expertise to produce the ultimate kitchen knives. Experience the beauty of sharpness with the MIYABI Evolution series.
Made from revolutionary fine carbide FC61 steel, these knives offer the signature sharpness for which Japanese knives are known
The ergonomic, triple-rivet handle encourages fatigue-free cutting and supports both Western chopping and Asian rocking cuts
Beautifully polished to a mirror finish, the ice-hardened blades are extremely durable and corrosion resistant
With their utmost attention to detail, skilled artisans ensure each knife is of the finest caliber
Handcrafted in Seki, Japan
Hand wash
Imported.
PURITY, GRACE AND ELEGANCE ARE QUALITIES HIGHLY APPRECIATED IN JAPANESE CULTURE. AND THE MIYABI BRAND BY ZWILLING IS SYNONYMOUS WITH PRECISELY THESE QUALITIES.

MIYABI is a ZWILLING Group brand and is synonymous with genuine Japanese knives. MIYABI knives are authentic because MIYABI does not try to be Japanese; it really is Japanese.

MIYABI knives are manufactured in the tradition of the ancient masters, who once produced the finest Japanese swords. They are designed by the Japanese, have a contemporary Japanese design and are produced in ZWILLING's own factories in Japan.
Ratings & Reviews
4.91
Rated 4.91 out of 5 stars
Rated 4.91 out of 5 stars
Rated 4.91 out of 5 stars
Rated 4.91 out of 5 stars
Rated 4.91 out of 5 stars