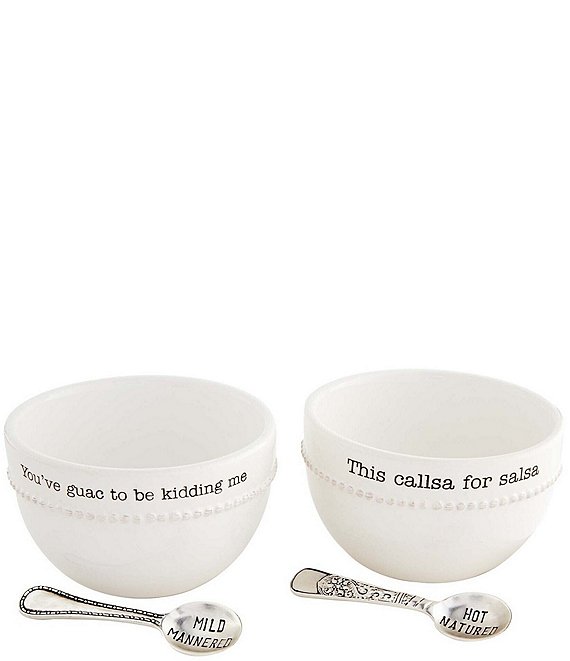 Mud Pie
Salsa and Quac Set
Rated 5 out of 5 stars
Rated 5 out of 5 stars
Rated 5 out of 5 stars
Rated 5 out of 5 stars
Rated 5 out of 5 stars
1 Review
Rated 5 out of 5 stars
From Mud Pie, this 4-piece set features:
Set of 4 includes 2 bowls and 2 spoons
Ceramic
Stamped silver-plate spoons
Beaded rim
Debossed sentimnet : "You've guac to be kidding me" and This callsa for a salsa"
Stamped wording on spoons: "Mild Mannered" and "Not Natured"
Dishwasher and microwave set
Each Measures:
Bowls approx. 2.5" x 4"dia.
Spoons approx. 3.5"
Imported.
Mud Pie is a leading gift company based out of Atlanta, founded by current CEO, Marcia Miller in 1988. The company began with 10 items, and has since grown into an award- winning manufacturer of baby & kids apparel & gifts, women's fashion & accessories, and home pieces all designed to celebrate life's special moments.

Mud Pie products are created for the fashion forward gals, the entertainers, the home decorators, the mamas and their little ones, and most importantly, for the ladies that enjoy the finer moments in life.

From holiday happenings to every day celebrations, Mud Pie has a gift that is fit for the occasion.
Ratings & Reviews
5
Rated 5 out of 5 stars
Rated 5 out of 5 stars
Rated 5 out of 5 stars
Rated 5 out of 5 stars
Rated 5 out of 5 stars