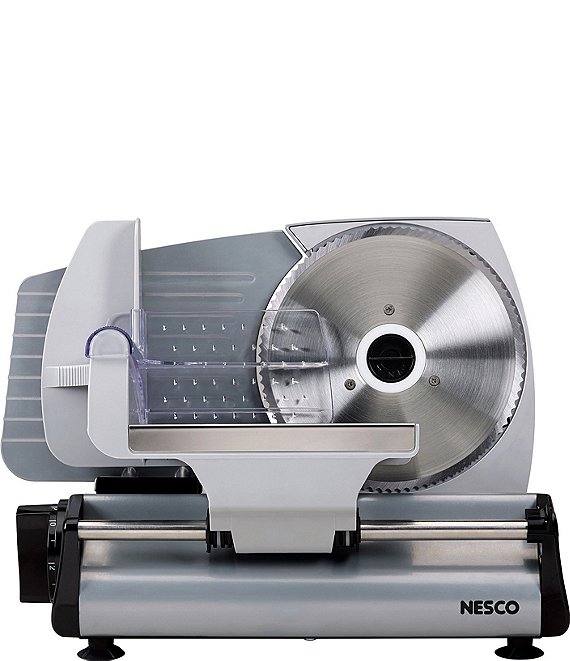 Nesco
Everyday Food Slicer with 7.5" Blade
From Nesco, the Everyday Food Slicer with 7.5" Blade features:
Convenient safety switch and hand guard ensure greater safety. 180 watts.
Dual safety switch feature. 7.5 in Stainless Steel hardened serrated blade. Protective blade guard.
Non slip feet.
Die Cast Aluminum housing.
Side built in thickness control to 9, 16 in.
Quick release feature for easy cleaning
Measures approx. 21 x 13 x 16 in
Weight approx. 25lbs
Imported.
We're more than just a trusted brand with a solid reputation. NESCO® means bringing everyone together for all the special occasions that fill your life like Thanksgiving, or just a weeknight dinner with your family.

Starting as the National Enameling and Stamping Company, we invented the Original Roaster Oven in Milwaukee, Wisconsin way back in 1931. The Wisconsin Electrical Company brought Roasters around to the rural areas of the state promoting the use of electricity in homes. This new versatile appliance replaced the wood-burning stoves that were common at the time, because of its ability to cook a meal quickly without heating up the house in the hot summer.

Throughout the years, we became the brand of Roaster that everyone came to depend on for all the special moments in life.
Ratings & Reviews
No reviews
Rated 0 out of 5 stars
Rated 0 out of 5 stars
Rated 0 out of 5 stars
Rated 0 out of 5 stars
Rated 0 out of 5 stars