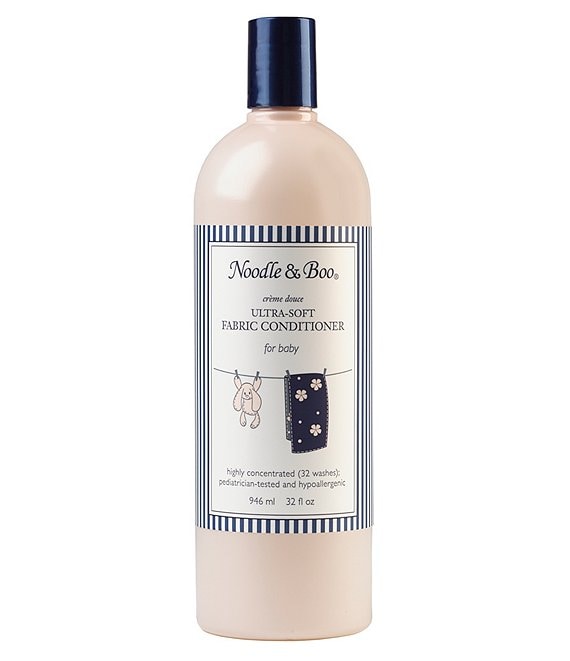 From Noodle & Boo, this fabric conditioner features:Ultra-Soft Fabric Conditioner for baby; highly concentrated (32 washes);
pediatrician-tested and hypoallergenic; Signature Crème Douce Scent

Mild formula with naturally-derived sustainable softening oils, infuses cuddly goodness into every load, while helping to preserve the condition of babys dainties. Developed to decrease drying time, reduce wrinkles and eliminate static cling. Eco-friendly and biodegradable; nothing but goodness! Created without dyes, formaldehyde, phosphates, phthalates or 1.4-dioxane. N&B Signature Crème Douce Scent. Clinically-tested and Hypoallergenic. Made in USA.

Noodle & Boo was founded by a mama whose babies had extremely sensitive skin and eczema. Working with professionals who specialize in natural and holistic skin care, each exclusive formula is developed to nourish, replenish and protect especially delicate and sensitive skin.

Noodle & Boo is committed to creating the highest quality products using the finest ingredients. Each ingredient is chosen based on proven historical data and appropriateness for a given product, not for marketing propaganda. Ingredients are derived from natural resources and are 'certified organic' when available and safe to use.

Made in the USA, our products are manufactured in FDA-approved, pharmaceutical environments to ensure product quality and integrity. Every formula is hypoallergenic and clinically-tested to minimize the risk of allergic reaction, as well as dermatologist-tested to verify optimality for skin sensitivities. Additionally, our children's products are pediatrician-tested to ensure every consideration is taken to meet the needs of our youngest customers.
Ratings & Reviews
No reviews
Empty Star
Empty Star
Empty Star
Empty Star
Empty Star