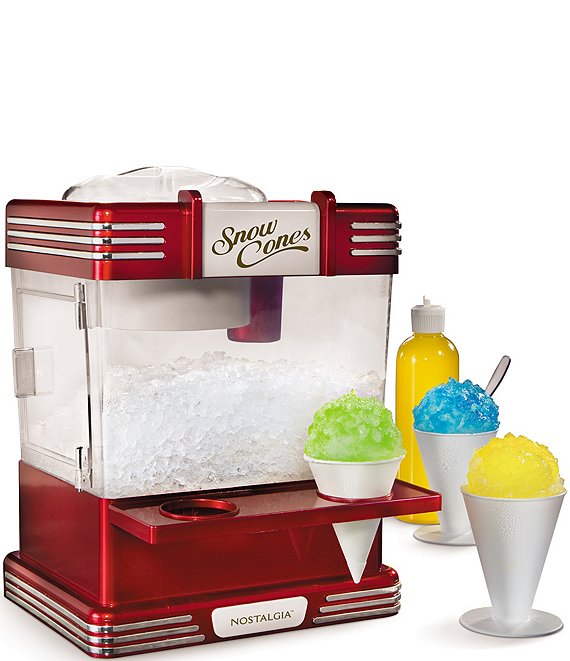 Rated 5 out of 5 stars
Rated 5 out of 5 stars
Rated 5 out of 5 stars
Rated 5 out of 5 stars
Rated 5 out of 5 stars
1 Review
Rated 5 out of 5 stars
From Nostalgia, this snow cone maker features:
Holds enough snow for approximately 20 (8 oz.) snow cones, making this perfect for birthday parties and other big events!
Unit works perfectly with all Nostalgia snow cone kits - try the Snow Cone Kit (SCK3), Snow Cone Syrups (SCS160), or the Straws and Cups (SCSTRAWCUP20)
Fill the shaving cage with regular-sized ice cubes for best results!
The precision-cut stainless steel cutting blades equipped with this machine work quickly and efficiently to shave ice cubes into delcious, fluffy snow-like ice
A safety switch is built into the shaving mechanism to keep hands safe
This unit is the perfect size to fit on a kitchen countertop or a small side table, making it easy to serve snow cones wherever you go!
Includes one (8 oz.) reusable plastic snow cone so you can easily serve snow cones
approx. 13.5" x 10.75" x 10.25"
approx. weight 5.05 lbs.
Imported.
Ratings & Reviews
5
Rated 5 out of 5 stars
Rated 5 out of 5 stars
Rated 5 out of 5 stars
Rated 5 out of 5 stars
Rated 5 out of 5 stars