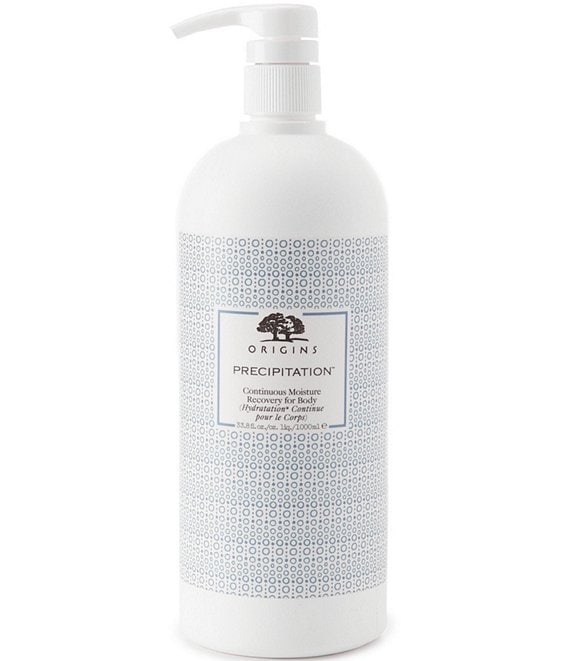 Origins
Precipitation Continuous Moisture Recovery For Body
Rated 4.34 out of 5 stars
Rated 4.34 out of 5 stars
Rated 4.34 out of 5 stars
Rated 4.34 out of 5 stars
Rated 4.34 out of 5 stars
121 Reviews
Rated 4.34 out of 5 stars
Skin-nourishing Sunflower and Soybean Oils, Ginseng, Gentian Root and Clary Sage rapidly refresh, renew and replenish dull, dry body skin. A complex of Barleyand Phellodendron Extracts helps repair skin's lipid barrier to protect against future drought. Then, like a gentle rainfall, this lush body balm delivers a steady stream of rich moisture to sustain skin throughout the day. With no greasy residue. And the lively aroma of Palmarosa, Galbanum and Grapefruit surround you in joy. After bathing, massage all over body.
For over 30 years, we've pioneered advancements in active natural skincare using our unmatched expertise in plant science and skin biology.

We identify nature's high-performing, sustainable plant, earth, and sea-based ingredients, screening over 500 each year for skin compatibility and bioactivity. Using breakthrough technologies, we unleash each ingredient's full potential to create formulas that are simply transformative.
Ratings & Reviews
4.34
Rated 4.34 out of 5 stars
Rated 4.34 out of 5 stars
Rated 4.34 out of 5 stars
Rated 4.34 out of 5 stars
Rated 4.34 out of 5 stars