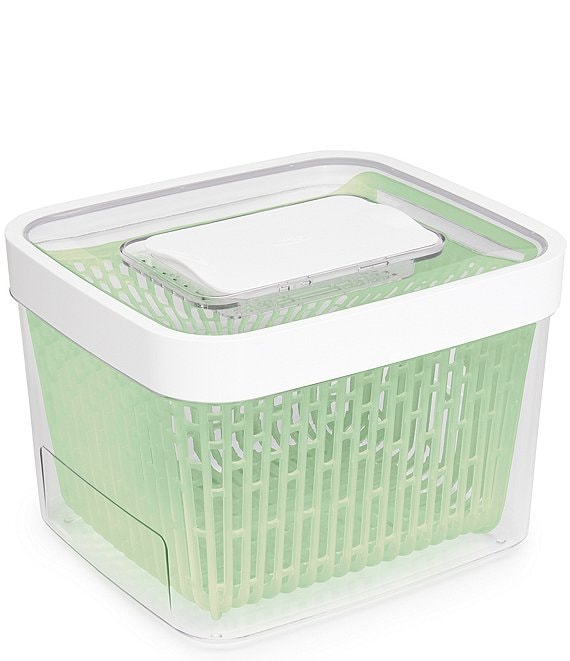 OXO
Good Grips Greensaver Produce Keeper
Rated 5 out of 5 stars
Rated 5 out of 5 stars
Rated 5 out of 5 stars
Rated 5 out of 5 stars
Rated 5 out of 5 stars
3 Reviews
Rated 5 out of 5 stars
Safe, non-toxic, activated carbon filter in this Greensaver produce keeper from OXO Good Grips is made from coconuts and is located in lid to absorb ethylene gas to keep produce fresh. slide to open and close vent for optimal humidity levelsremovable basket to be used as a colander to rinse fruits and vegetablesbuilt-in handles on basketchart of the most common fruits and vegetables printed underneath tab shows whether you should keep the vent open or closedfilter absorbs ethylene gas and lasts up to 90 daysavailable in 1.6-quart or 4.3-quart capacitieseach sold separatelyImported.
At OXO, we look at everyday objects and activities and we see ways to make things simpler, easier, more thoughtfully designed–better.

We notice things. We notice pain points and pains-in-the-neck. We notice problems people don't realize are problems until we solve them. We see opportunities to improve a product or a process, or a part of everyday life, and we make things that make things better.

Our products make everyday life easier, in every room of your home. From cooking and baking to brewing and entertaining to cleaning and organizing, to everyday adventures with little ones.
Ratings & Reviews
5
Rated 5 out of 5 stars
Rated 5 out of 5 stars
Rated 5 out of 5 stars
Rated 5 out of 5 stars
Rated 5 out of 5 stars