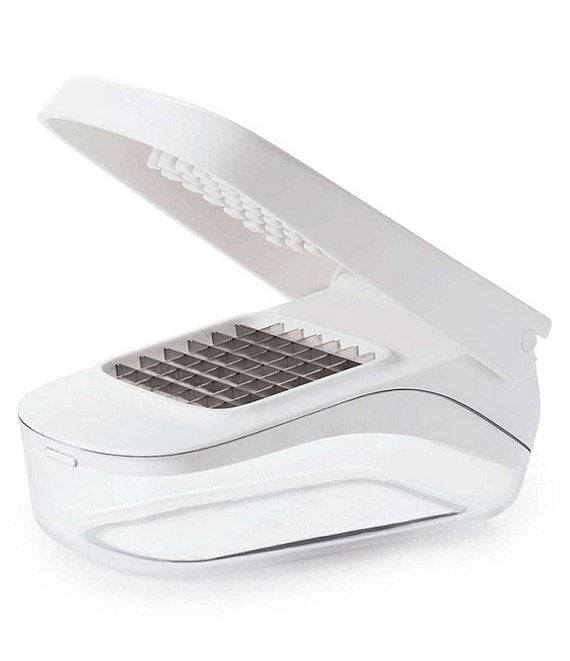 OXO
Good Grips Vegetable Chopper with Easy-Pour Opening
Rated 4.5 out of 5 stars
Rated 4.5 out of 5 stars
Rated 4.5 out of 5 stars
Rated 4.5 out of 5 stars
Rated 4.5 out of 5 stars
2 Reviews
Rated 4.5 out of 5 stars
From OXO, this vegetable chopper features:
stainless steel blades
removable grid that helps clean between teeth of chopper
recessed cutting area to keep food in place
removable angled lid for leverage while chopping and optimal hand placement
pour spout that makes it easy to empty contents
measurement markers
non-slip base for stability
BPA-free plastic
dishwasher safe
approx. 2.5-cup / 20-oz. capacity
approx. 4.25(L) x 10.35(W) x 6.5(H)"
Imported.
At OXO, we look at everyday objects and activities and we see ways to make things simpler, easier, more thoughtfully designed–better.

We notice things. We notice pain points and pains-in-the-neck. We notice problems people don't realize are problems until we solve them. We see opportunities to improve a product or a process, or a part of everyday life, and we make things that make things better.

Our products make everyday life easier, in every room of your home. From cooking and baking to brewing and entertaining to cleaning and organizing, to everyday adventures with little ones.
Ratings & Reviews
4.5
Rated 4.5 out of 5 stars
Rated 4.5 out of 5 stars
Rated 4.5 out of 5 stars
Rated 4.5 out of 5 stars
Rated 4.5 out of 5 stars