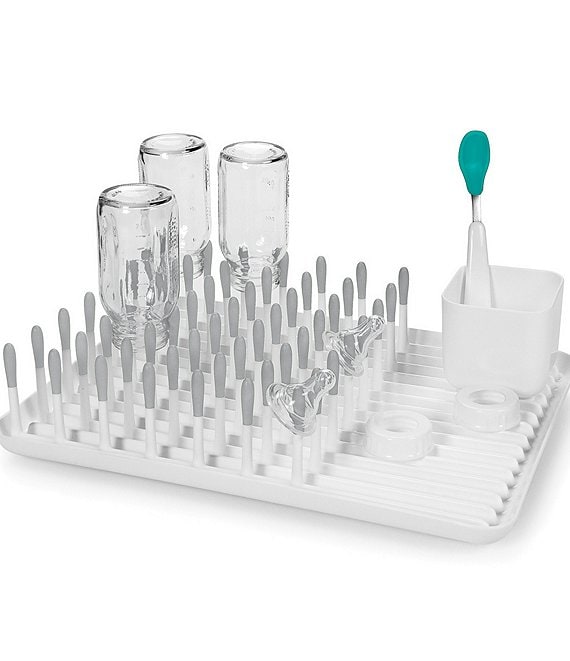 OXO
Tot Bottle Drying Rack
From OXO, this rack features:
The Drying Rack accommodates at least eight bottles and corresponding parts.
Raised ribs on the bottom of the tray ensure items don't sit in a pool of water, keeping them clean, sanitary and dry.
Additional space at the front of the rack is useful for small parts.
A removable cup can be attached to multiple areas of the tray and is ideal for kids' utensils, straws and medicine droppers.
The corners of the tray are optimally shaped to easily pour out excess water, and elevated non skid feet at the bottom of the tray make it easy to lift.
Dimensions: 13.63" x 10.13" x 3"
Imported.
*Returns not accepted on any opened, used, or defective product. Contact manufacturer directly for further defective products/parts.
At OXO, we look at everyday objects and activities and we see ways to make things simpler, easier, more thoughtfully designed–better.

We notice things. We notice pain points and pains-in-the-neck. We notice problems people don't realize are problems until we solve them. We see opportunities to improve a product or a process, or a part of everyday life, and we make things that make things better.

Our products make everyday life easier, in every room of your home. From cooking and baking to brewing and entertaining to cleaning and organizing, to everyday adventures with little ones.
Ratings & Reviews
No reviews
Empty Star
Empty Star
Empty Star
Empty Star
Empty Star