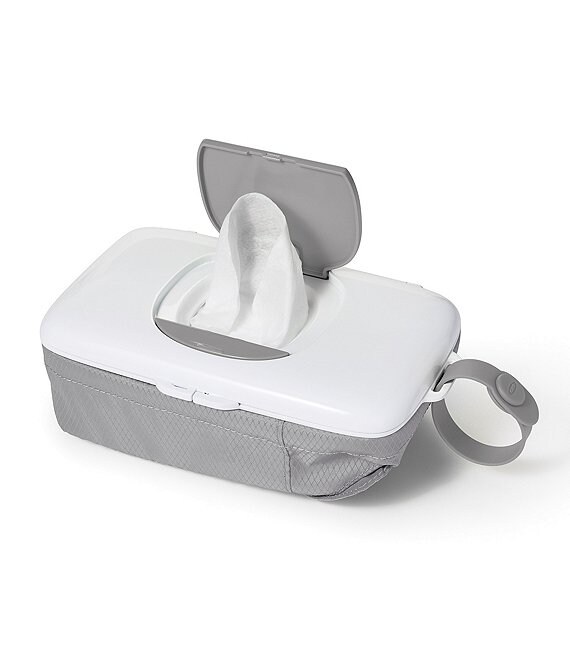 OXO
Tot On-the-Go Wipes Hard Dispenser with Diaper Pouch
*Returns not accepted on any opened, used, or defective product. Contact manufacturer directly for further defective products/parts.
From OXO, this dispenser features:
hard dispenser for wipes and a fabric pouch for up to 5 diapers
large button allows you to easily open the dispenser with one hand
fabric pouch keeps diapers separate from wipes for organized, clean storage on the go
The Dispenser with Pouch with shaped to tuck into diaper bags, purses or stroller pockets and is also great for carrying diaper cream, keys or other items
A silicone tether securely attaches the case to stroller handles for car seat backs
This compact case holds everything you need for quick, on-the-go changes.
Dimensions:9.25" x 5.7" x 1.75"
Imported.
At OXO, we look at everyday objects and activities and we see ways to make things simpler, easier, more thoughtfully designed–better.

We notice things. We notice pain points and pains-in-the-neck. We notice problems people don't realize are problems until we solve them. We see opportunities to improve a product or a process, or a part of everyday life, and we make things that make things better.

Our products make everyday life easier, in every room of your home. From cooking and baking to brewing and entertaining to cleaning and organizing, to everyday adventures with little ones.
Ratings & Reviews
No reviews
Rated 0 out of 5 stars
Rated 0 out of 5 stars
Rated 0 out of 5 stars
Rated 0 out of 5 stars
Rated 0 out of 5 stars