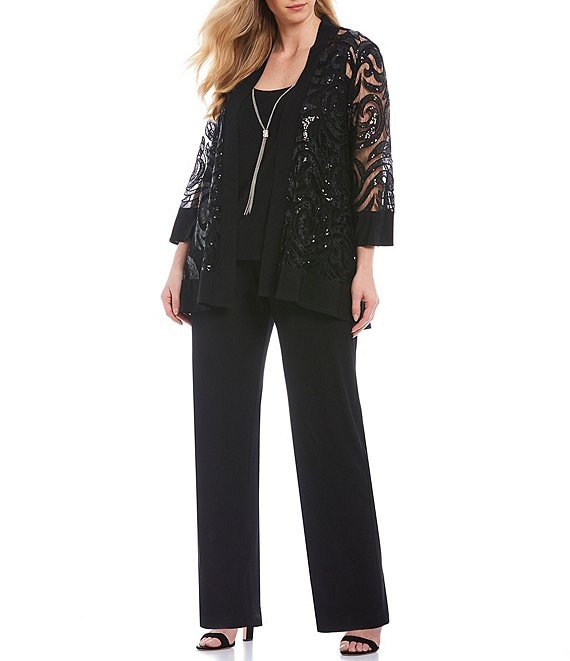 R & M Richards
Plus Size Scoop Neck 3/4 Sleeve Swirl Sequin Jacket 2-Piece Pant Set
Rated 4.54 out of 5 stars
Rated 4.54 out of 5 stars
Rated 4.54 out of 5 stars
Rated 4.54 out of 5 stars
Rated 4.54 out of 5 stars
13 Reviews
Rated 4.54 out of 5 stars
From R & M Richards Plus, this 2-piece pant set features:
Top
jersey knit fabrication
scoop neckline
3/4 sleeves
detachable necklace
sequin swirl detail
pullover construction
approx. 35" length
polyester/spandex
hand wash
Pants
jersey knit fabrication
mid-rise elastic waistband
straight hemline
pull-on construction
approx. 32" inseam
Polyester/spandex
hand wash
Imported.
R & M Richards offers the perfect look for all special occasions. We specialize in mother of the bride dresses, cocktail dresses, and formal dresses, as well as elevated Daytime dresses, and pant sets. Whether you gravitate towards modern or timeless, R & M approaches each customer based on her personal style preference.

R & M Richards is a family owned and operated business. Since opening in 1990, Mario Dell'Anno, it's founder, always ingrained in us the motto "as long as we provide current fashion as well as the best fit in the industry and just as important the right price, we will be around for a long time and will be successful!" These wise words have kept us in business for the past 30 years!
Ratings & Reviews
4.54
Rated 4.54 out of 5 stars
Rated 4.54 out of 5 stars
Rated 4.54 out of 5 stars
Rated 4.54 out of 5 stars
Rated 4.54 out of 5 stars