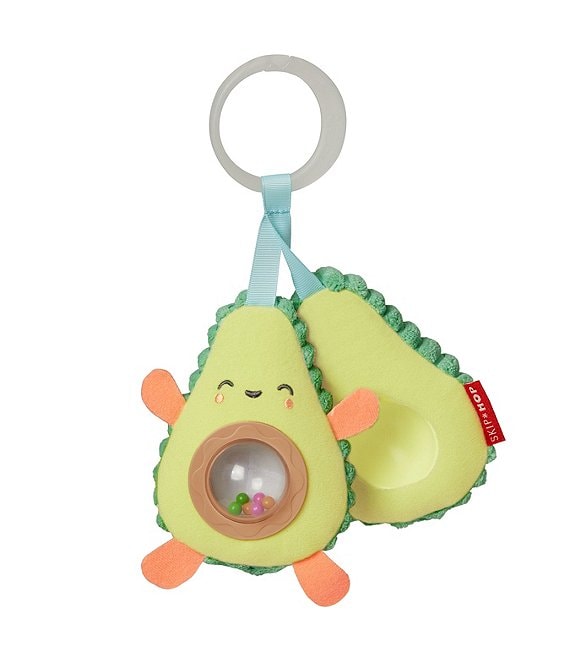 Skip Hop
Farmstand Avocado Stroller Toy
Rated 4.74 out of 5 stars
Rated 4.74 out of 5 stars
Rated 4.74 out of 5 stars
Rated 4.74 out of 5 stars
Rated 4.74 out of 5 stars
87 Reviews
Rated 4.74 out of 5 stars
*Returns not accepted on any opened, used, or defective product. Contact manufacturer directly for further defective products/parts.
From Skip Hop, this toy features:
Get ready to guac and roll with our adorable avocado stroller toy. Featuring two halves that are easy for little hands to open and close, inside they'll find (surprise!) a peek-a-boo rattle "pit." The plush, textured exterior and cute felt details make this a fresh and fun way to entertain baby wherever you go. Like all our stroller toys and portable baby toys, it has a built-in loop and ring so you can easily attach it to the bar of your stroller, infant carrier or other gear.
Ages 0+
Two halves open and close
Clear rattle "pit" center with colorful beads
Plush, textured material
Easily attaches to stroller bars and infant carriers
Phthalate-free
Size (inches): 4.75l x 3.75w x 9h
Imported.
Parenting is an adventure and we're in it together! We have your back with smart solutions and décor-friendly style to carry you through all the milestone moments—from baby's first bath to the first day of school. Thanks to innovative features and grow-with-baby designs, our award-winning Must-Haves Made Better® make life with little ones easier (and more fun!) for everyone.
Ratings & Reviews
4.74
Rated 4.74 out of 5 stars
Rated 4.74 out of 5 stars
Rated 4.74 out of 5 stars
Rated 4.74 out of 5 stars
Rated 4.74 out of 5 stars