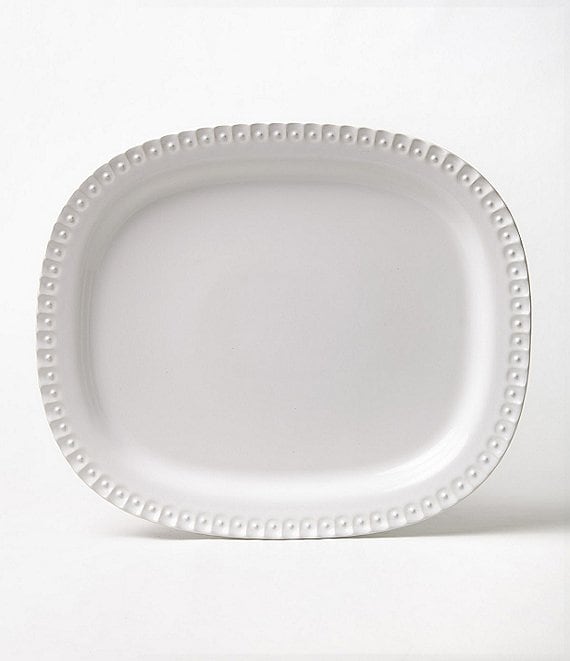 Southern Living
Alexa Embossed Stoneware Oval Platter
Full Star
Full Star
Full Star
Full Star
Full Star
9 Reviews
Simple and classic, the Southern Living Alexa dinnerware offers a hand-crafted look that can be dressed up or down for any occasion. Keep it simple for everyday or mix and match with different patterns to create that true Southern Living-style table for special celebrations. The glazed stoneware pieces with decorative edging have "that extra something" to make any table feel well-dressed. It's the little black dress of dinnerware. And in case you're wondering, we named this collection in honor of Mrs. Alexa Dillard, a hostess who knew the art of setting a beautiful table. We raise a glass to you.
Approx. 16 x 12.6"
Dishwasher and microwave safe.
Imported.
Southern Living® is a registered trademark of Time Inc. and is used under license.
STONEWARE:Its made from a clay that is high fired in temperature (1180C/2160F), which creates a vitrified glazed surface with very low porosity (less than 0.5%) revealing the consistency and durability. Also has a high conservation capacity of the temperature of the foods and its textures. Have all the properties of China/Porcelain. The true advantage relies on the ability to keep the products practical and multi-purposed, elegant and stylish for entertaining, its dishwasher and microwave safe. Centuries of Portuguese ceramic tradition serve as an inspiration, while blending the finest mineral resources in Portugal to manufacturer with exceptional design, resistance and quality.
ALEXA: Its beautiful for entertaining and casual enough for everyday use. Its glazed by hand and the small beads edge brings an ancient and elegant look to your table in many ways.
Portuguese Ceramics Made by Factory FAPOR: Design, Innovation and Quality Assurance three primal attributes that are the base line of the international success of Portuguese ceramics. It is from symbiosis between the art, the know-how and innovation, that we can write the history of the Portuguese Ceramic Industry.
Ratings & Reviews
5
Full Star
Full Star
Full Star
Full Star
Full Star