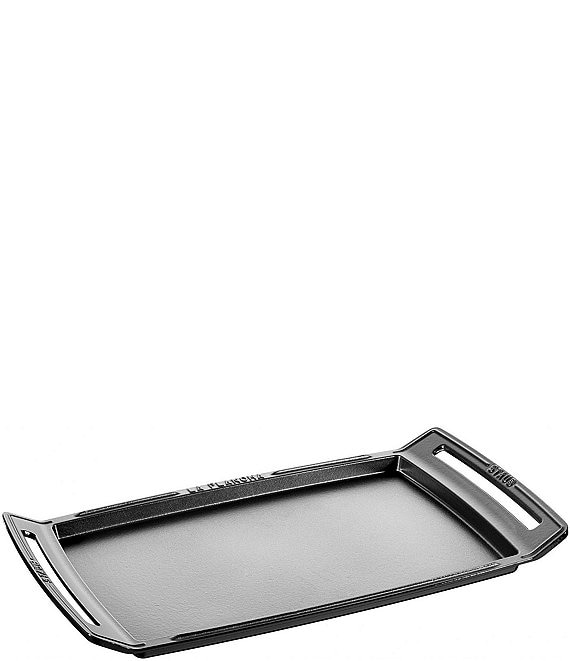 Staub
Cast Iron 18.5" x 10" Double Burner Grill
Full Star
Full Star
Full Star
Full Star
Half Star
31 Reviews
From Staub, this burner grill pan features:
One product for everything and everyone: The new STAUB Plancha griddle offers plenty of space for the whole family or guests. And when it comes time to serve, the cast iron plancha is simply placed on the table or buffet. Its modern design with clean lines and black matte surface ensures excellent presentation anywhere. It's the modern way to cook and serve. The premium-quality STAUB Plancha lets you cook meat, fish, vegetables and more efficiently for several people simultaneously. Its cooking surface provides plenty of space for meals together as a family or with guests. In addition to looking great, its cast iron retains heat over time to keep food warm for long periods. However, the versatility doesn't stop there: As a special piece of cast-iron cookware, the griddle is suitable for use on both stoves and barbecues. It is also compatible for use on induction stoves (the booster function must not be used). This means that there are practically no limits placed on your culinary creativity.
Features
Cast iron griddle – modern design
Suitable for all types of hobs including induction, can also be used on the grill
Color: black enamel – matt on top, gloss below
Energy-efficient cooking thanks to the special material properties of cast iron
Suitable for use on all types of stove, including induction (booster function must not be used), as well as on barbecues
Not suitable for standard European ovens
Wide range of uses as a grill or serving platter
Measures with handle: approx. 18.5"L x 9.84"H; grill surface: 15" L x 8.66"H
Heat resistance: up to 250° C / 500° F on the stove top or grill
Imported.
Ratings & Reviews
4.84
Full Star
Full Star
Full Star
Full Star
Half Star