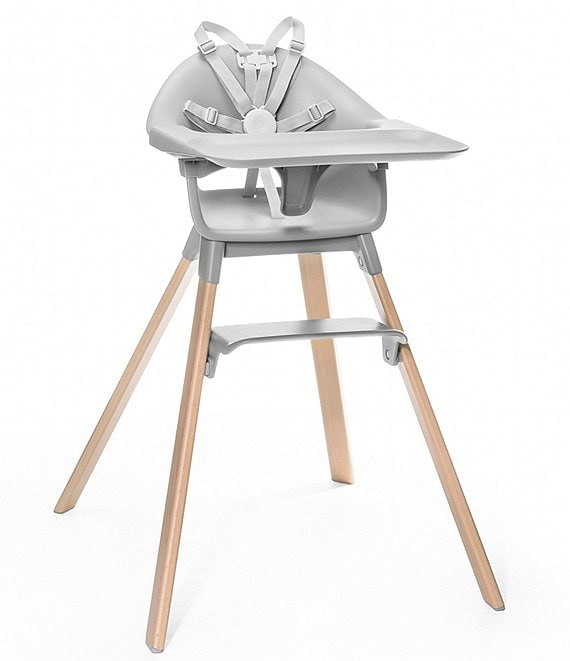 Stokke
Clikk™ High Chair, Harness, & Tray Set
Full Star
Full Star
Full Star
Full Star
Half Star
108 Reviews
From Stokke, this set features:
Stokke® Clikk™ high chair was specially designed to address every parent's needs, all in one box! Beautifully designed with smooth lines means you're ready for easier and cleaner mealtimes in just 1-2-3 Clikk. Tool-free assembly in only one minute.
All needed parts come included - high chair, tray & harness
Tool-free assembly that's quick and simple
Lightweight and travel friendly: light, easy to put together & take apart
Easy to wipe clean with smooth surfaces from top to bottom
Harness easy to remove for cleaning, machine washable
Detachable and dishwasher safe tray
Five-point harness
Harness is intended for children able to sit up unaided and up to 3 years or a maximum weight of 15 kg / 33lbs.
Without Tray and Harness, it can be used from 3 years and up to 40 kg / 88lbs.
JPMA certified. Tested & trusted
No harmful substances/free from phthalates
Ergonomically designed for children from 6 months to 3 years – and beyond
Three configurations for optimal seating at each age
Adjustable foot rest offers two positions
Optional cushion for added softness & comfort
Approx. 27.2" x 32.5" x 22.1"
Imported.
*Returns not accepted on any opened, used, or defective product. Contact manufacturer directly for further defective products/parts.
Ratings & Reviews
4.63
Full Star
Full Star
Full Star
Full Star
Half Star