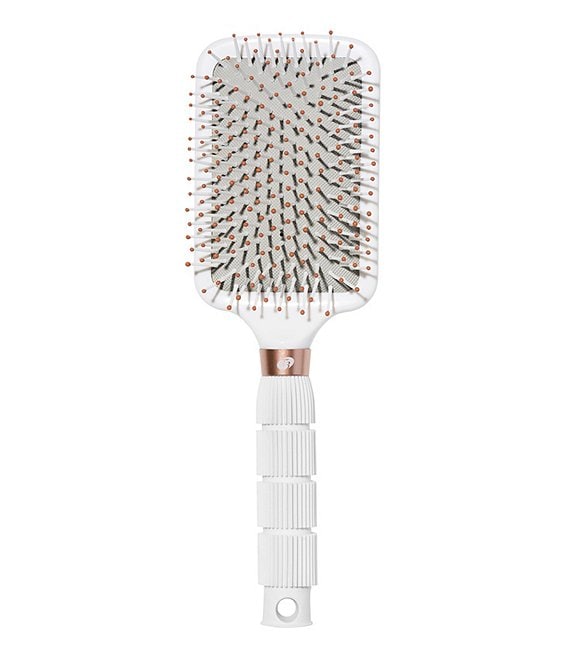 T3
Smooth White & Rose Gold Paddle Brush
Rated 4.56 out of 5 stars
Rated 4.56 out of 5 stars
Rated 4.56 out of 5 stars
Rated 4.56 out of 5 stars
Rated 4.56 out of 5 stars
50 Reviews
Rated 4.56 out of 5 stars
T3 Smooth White & Rose Gold Paddle Brush: Sleek and smooth. Polished results.
Product Description:
Designed with seamless high heat-resistant nylon bristles, cushioned body, and a broad flat base, this professional paddle brush is ideal for creating a sleek, smooth finish during blowouts. Its seamless high heat-resistant nylon bristles detangle and gently smooth hair, while its soft, no-slip handle ensures better control and effortless styling.
Features:
Cushioned Body: For gentle styling with sleek, shiny results
Broad Flat Base: Covers a wider surface area of hair
Heat-Resistant Bristles: Detangle and gently smooth hair
Soft no-slip Handle: For better control and effortless styling
Benefits:
Detangling, smoothing and grooming.
How To Use:
Detangle damp hair using your T3 Smooth paddle brush. Rough dry hair until it is 80% dry.
Place the brush underneath a section of hair at the roots and pull down, directing the airflow of the dryer at the brush.
Continue until you achieve your desired look.
Who Is It For?
Ideal for all hair lengths and types
T3 designs innovative hair tools to dramatically enhance your styling experience, never compromising your hair's health or beautiful results. In 2003, the company set out to reinvent hair styling by pioneering a new kind of hair tool: technology-forward, fast-working, designed with high performance and better results in mind. T3's roots as one part tech start-up, part beauty venture has led to high-performing, thoughtfully designed heat tools that enable a smoother routine. The goal of the tech-savvy company has always been to minimize the guesswork, maximize your time, and bring you reliably beautiful results while protecting the health and radiance of your hair.
Ratings & Reviews
4.56
Rated 4.56 out of 5 stars
Rated 4.56 out of 5 stars
Rated 4.56 out of 5 stars
Rated 4.56 out of 5 stars
Rated 4.56 out of 5 stars