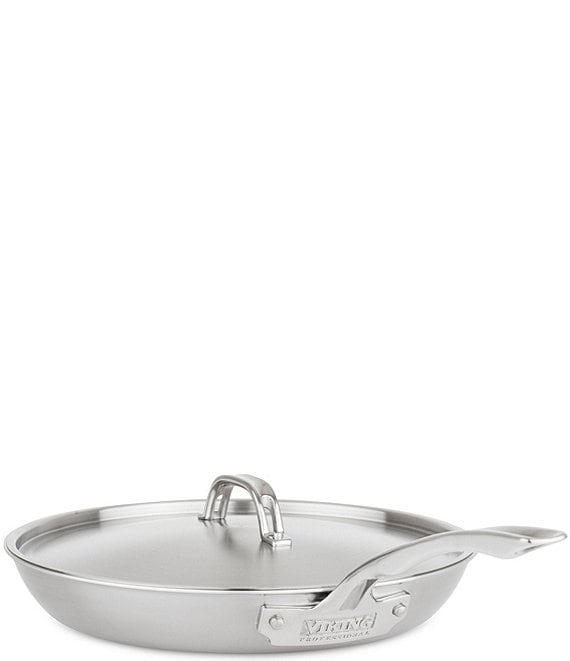 Viking
Professional 5-Ply Satin Covered Eterna Nonstick Fry Pan
Rated 5 out of 5 stars
Rated 5 out of 5 stars
Rated 5 out of 5 stars
Rated 5 out of 5 stars
Rated 5 out of 5 stars
1 Review
Rated 5 out of 5 stars
From Viking, this fry pan features:
Durable Stainless Steel Construction with Aluminum Alloy Core
Non-Reactive & Non-Porous 18/10 Stainless Steel Interior
Can Be Used on Any Cooking Surface, Including Induction
Ergonomically Designed Cast Stainless Steel Handles Provide a Comfortable & Secure Grip
Commercial Grade Riveted Handles with Solid Stainless Steel Rivets
Nonstick Products Feature Eterna,® an Advanced Coating Made Without PFOA for Safe, Superior Release
Oven Safe
Approx. 10" frypan or 12" frypan (Each Sold Separately)
Lifetime warranty
Hand wash recommended
Made in USA.
DMS: 0724 076 4015-1N10SC
We introduced professional cooking to the home in 1987 with the introduction of our flagship ranges and gourmets all over the world rejoiced. Then we added cooktops, rangetops, ovens, and everything in between. We've made quite a few upgrades over the years, but these are still the ultra-premium appliances people see when they dream of a professional kitchen. Viking is again revolutionizing ultra-premium appliances by incorporating proven technology and innovative features, once reserved for commercial kitchens, into Viking appliances for your home.
Ratings & Reviews
5
Rated 5 out of 5 stars
Rated 5 out of 5 stars
Rated 5 out of 5 stars
Rated 5 out of 5 stars
Rated 5 out of 5 stars