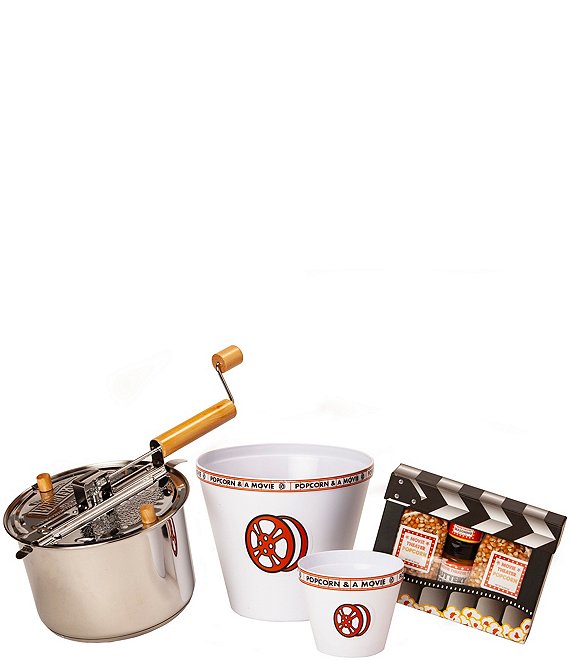 Wabash Valley Farms
Stainless Steel Whirley Pop with Movie Clapboard Gift Set and Popcorn Buckets
From Wabash Valley Farms, this set features:
Tonight... take a break and enjoy a great movie on the couch with a big bowl of delicious popcorn. The set includes the Stainless Steel Whirley Pop, Movie Clapboard gift set which contains everything you need to make delicious popcorn, plus two Popcorn Buckets to serve the delicious popcorn in.
The ready-to-give Movie Clapboard gift set comes packed with farm fresh popcorn, buttery topping, and our secret buttery seasoning- all key ingredients to making delicious movie theater style popcorn at home. Includes 2 - 1 lb. bags of Yellow Gourmet Popping Corn, 3 oz. Buttery Popcorn Topping and 1 oz. Movie Theater Style Seasoning.
"Popcorn & A Movie" themed popcorn buckets feature a burnt orange color palette. These buckets are made of plastic so they can be reused over and over again. You get one small individual bucket that holds approximately 2 cups of popcorn and one large serving bucket that holds approximately 6 quarts of popcorn. Each bucket also features a removable kernel separator that drops the unpopped kernels into the bottom of the bucket where they don't interfere with your popcorn enjoyment!
The Whirley popper features a stainless steel lid and pan with die-cast metal gears. The encapsulated carbon steel disc is located on the bottom of the pan to ensure perfect popcorn every time and usage on an induction cooktop stove.
Imported.
Please note, all gourmet food products purchased on Dillard's.com are non-returnable.
Ratings & Reviews
No reviews
Empty Star
Empty Star
Empty Star
Empty Star
Empty Star