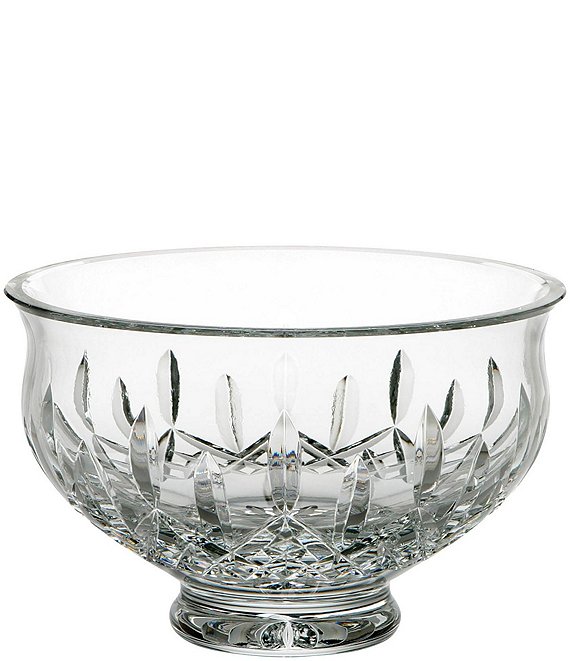 Waterford
Crystal Lismore Footed Bowl, 8"
From Waterford, this bowl features:
The Waterford Lismore pattern is a classic combination of brilliance and clarity. Make a radiant statement in your home or office with the Lismore 8" Bowl, the perfect showcase for candles, sweets potpourri or whatever else you choose to fill it with. This striking accent piece features intricate detailing and Lismore's signature diamond and wedge cuts, in addition to the comforting weight and stability you've come to expect from Waterford's hand-crafted, fine crystal.
Crystal
Footed bowl
Diamond and wedge cuts
Makes a wonderful gift
approx. 8" x 8"
Hand Wash with Soft Cloth
Imported.
Waterford Crystal was first established in 1783 on land adjacent to Merchants' Quay in the heart of the Irish harbor town of Waterford, just minutes from the present-day House of Waterford Crystal. Its founders were brothers George and William Penrose, important developers and principal exporters in the city. Their vision was to "create the finest quality crystal for drinking vessels and objects of beauty for the home." More than two hundred years later, the reputation they established for creating luxury crystal of unsurpassed beauty and quality has transcended the intervening centuries.
Ratings & Reviews
No reviews
Rated 0 out of 5 stars
Rated 0 out of 5 stars
Rated 0 out of 5 stars
Rated 0 out of 5 stars
Rated 0 out of 5 stars