Dillard's Boynton Beach in Boynton Beach, Florida
0513
Store Information
Clearance Center

Phone:

(561) 732-4285
Rolman P. Bermudez, Store Manager
This Week's Hours
| | | |
| --- | --- | --- |
| Saturday | (05/15/2021) | 12:00 PM - 7:00 PM |
| Sunday | (05/16/2021) | 12:00 PM - 6:00 PM |
| Monday | (05/17/2021) | CLOSED |
| Tuesday | (05/18/2021) | 12:00 PM - 7:00 PM |
| Wednesday | (05/19/2021) | 12:00 PM - 7:00 PM |
| Thursday | (05/20/2021) | 12:00 PM - 7:00 PM |
| Friday | (05/21/2021) | 12:00 PM - 7:00 PM |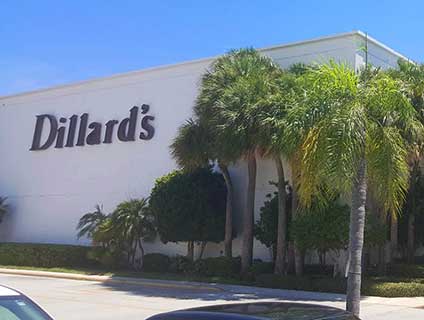 Learn about careers at Dillard's
Upcoming events at Boynton Beach
The $1 Sale
All green ticketed merchandise will ring up at registers with a final price of $1.00!
Featured Shop
Make sure to stop by our Men's Slim Fit Shop located next to the Men's Pants Department for more style inspiration.
New Arrivals
We are excited to announce New Arrivals! Highlights include Ladies Dresses, Men's Designer Apparel, & Juniors Pants.