Dillard's Pemberton Square in Vicksburg, Mississippi
0534
Store Information
This Week's Hours
| | | |
| --- | --- | --- |
| Friday | (06/02/2023) | 12:00 PM - 7:00 PM |
| Saturday | (06/03/2023) | 12:00 PM - 7:00 PM |
| Sunday | (06/04/2023) | 12:00 PM - 6:00 PM |
| Monday | (06/05/2023) | CLOSED |
| Tuesday | (06/06/2023) | 12:00 PM - 7:00 PM |
| Wednesday | (06/07/2023) | 12:00 PM - 7:00 PM |
| Thursday | (06/08/2023) | 12:00 PM - 7:00 PM |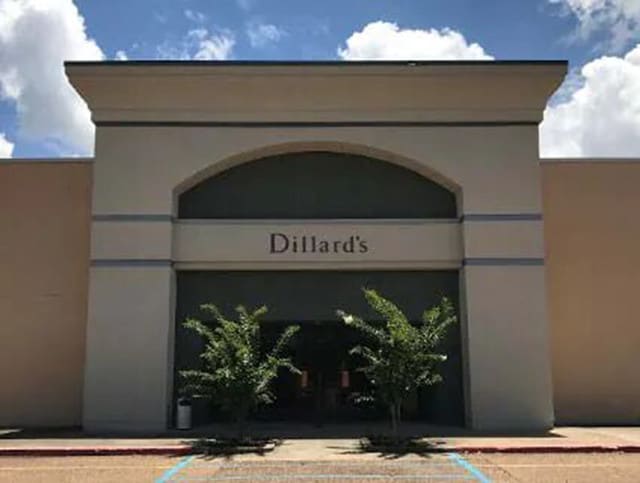 Learn about careers at Dillard's
Upcoming events at Pemberton Square
Markdowns
We have taken 1000's of new markdowns on wear now summer items in every area of the store! Now at marked at 80% off original price...all Ladies SWIMSUITS! Select Ladies', Plus & Petite Summer Maxi & Short Dresses, Select Ladies' Social Dresses & Separates. A Large selection of Free People. Select Ladies Short Sleeve Tops, Pants & Capris. Select Handbags. Select Men's Polo & Designer and Select Short Sleeve Woven or Knit Shirts. AND Select Men's Shoes. Select Ladies' Shoes Now $7.99 - $19.99. Select Juniors' Summer Dresses Now $7.99 - $14.99. Select Kids Summer starting at $2.99 and more. Exclusions do apply. While supplies last. No Returns. No Adjustments. No Exchanges. All Sales Are FINAL. Markdown prices valid at this location only. We can't wait to see you!
New Handbags & more!
New merchandise is being put out daily! This week we have NEW Dooney & Bourke Handbags. Summer Handbags & Totes. Ladies Men's & Kids Shoes including Boys. Ladies Casual and Social Dresses. A large selection of Ladies Designer Brands including Bryn Walker and Eileen Fisher in Plus size too. Men's Suits and Designer, Polo and Michael Kors. Men's Hats & Wallets. Boys, Girls and Infants Apparel & Accessories. Infants Galore! Apparel in all areas including Men's Polo, Lacoste and Slim Fit. Plus Kids Shoes & Apparel.We have something for everyone! All Sales Are Final. No Returns. No Adjustments. No Exchanges. Markdown prices valid at this location only.
Father's Day Shop
Father's Day is just around the corner and we have a great selection of gifts for your Dad. Stop by our Father's Day Shop located just inside our main entrance and find your perfect gift. We have wear now shorts and shirts, a new selection of Suits and Sportcoats, Wallets, Belts and Ties too. Plus selected Men's Summer is Marked down. Markdown prices valid in this location only. All SALES ARE FINAL. NO RETURNS. NO EXCHANGES. NO ADJUSTMENTS. Your Dillard's Rewards card is always welcome at our location.