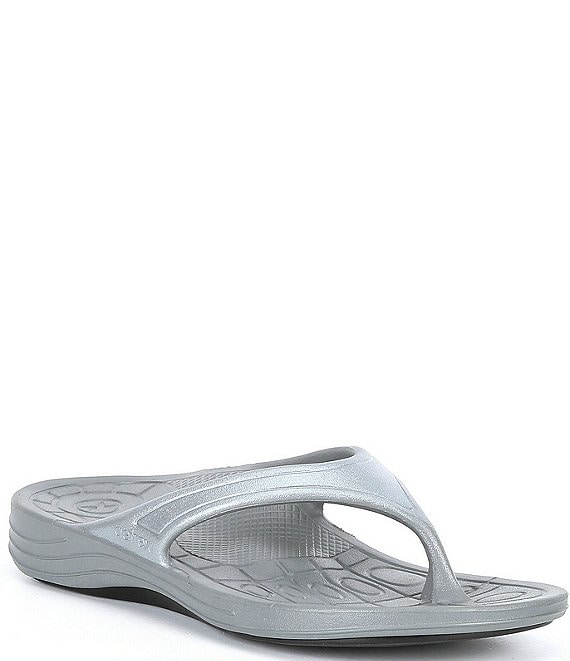 Aetrex
Fiji Flip Flops
Rated 4.4 out of 5 stars
Rated 4.4 out of 5 stars
Rated 4.4 out of 5 stars
Rated 4.4 out of 5 stars
Rated 4.4 out of 5 stars
40 Reviews
Rated 4.4 out of 5 stars
From Aetrex, the Fiji Flip Flops feature:
UltraSky EVA upper
Water-friendly construction, so light they float
Soft toe post for added comfort
Slide on
UltraSky EVA lining
Metatarsal support to help reduce ball-of-foot discomfort
Extreme cushioning and shock absorption to help prevent injury and provide unmatched support
Arch support helps to stabilize and align feet
Arch support helps to relieve common foot pain & plantar fasciitis
UltraSky EVA outsole
Approx. 1.12" heel
Imported.
Aetrex was originally founded in 1946 by Paul and Charles Schwartz under the name Apex as an arch support and orthotics company. The brand has remained privately owned by the Schwartz family for three generations. Throughout its 70-year history, Aetrex's has remained dedicated to advancements in foot heatlh and comfort. This objective is driven by the company's unwavering goal to keep people feeling great on their feet.

With a mission to create the healthiest shoes you'll ever wear, the Aetrex Footwear line provides the highest design standards, carefully considered details, and the finest possible materials for unmatched customization and adjustability. All styles incorporate advances comfort technologies while providing support, alignment and fashion forward styling.
Ratings & Reviews
4.4
Rated 4.4 out of 5 stars
Rated 4.4 out of 5 stars
Rated 4.4 out of 5 stars
Rated 4.4 out of 5 stars
Rated 4.4 out of 5 stars