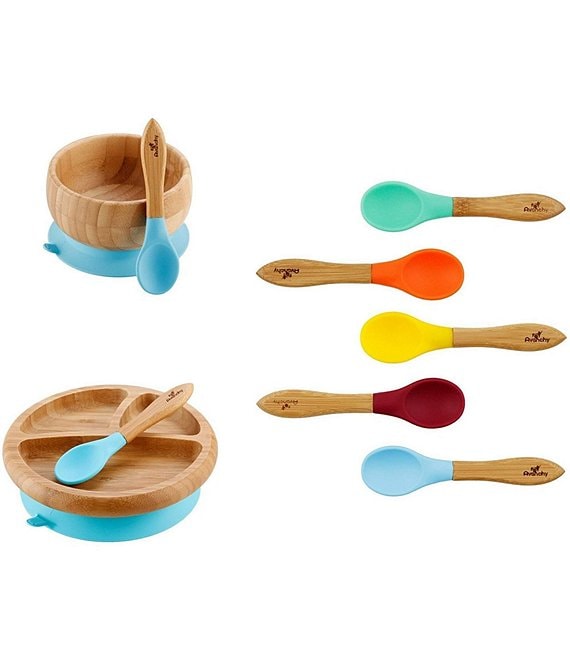 Avanchy
Baby Rainbow Feeding Bowl/Plate/Spoon Gift Set
Full Star
Full Star
Full Star
Full Star
Half Star
743 Reviews
From Avanchy, this set features:
One (1) organic bamboo baby bowl with matching spoon
One (1) organic bamboo baby plate with matching spoon
Five (5) silicone baby spoons with organic bamboo handle
Set your Avanchy plate or bowl so that the easy-release tab faces away from your little one.
Activate the Airtight-Lock mechanism by firmly pressing your kids' bowl or plate onto a flat surface until you hear all the air come out.
To release, simply pull the release tab. The suction piece pops off like magic!
Type 304 (18/8) stainless steel is thick, durable, and easy to keep clean.
Bamboo is 100% biodegradable, environmentally friendly, nontoxic, and coated with an FDA-approved food-grade varnish.
Antimicrobial and antibacterial materials
Plastic-free, BPA-free, PVC-free, lead-free, and phthalate-free
Nontoxic, hypoallergenic, and 100% safe for baby feeding
Stainless steel items: Wash in dishwasher.
Bamboo items: Wash by hand.
Silicone rings: Remove ring for deeper cleaning of items separately. Separate silicone ring from the bowl or plate and wash in dishwasher or by hand.
Imported.
*Returns not accepted on any opened, used, or defective product. Contact manufacturer directly for further defective products/parts.
Ratings & Reviews
4.87
Full Star
Full Star
Full Star
Full Star
Half Star