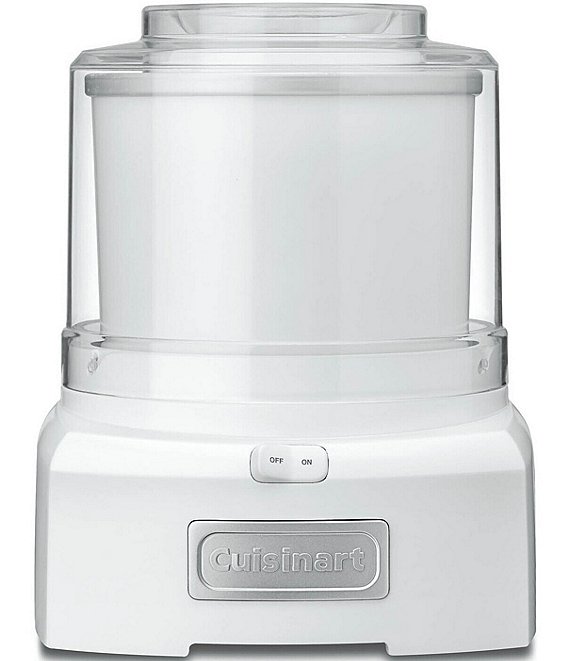 Cuisinart
White Frozen Yogurt, Ice Cream & Sorbet Maker
Rated 4.82 out of 5 stars
Rated 4.82 out of 5 stars
Rated 4.82 out of 5 stars
Rated 4.82 out of 5 stars
Rated 4.82 out of 5 stars
1017 Reviews
Rated 4.82 out of 5 stars
Now you can enjoy the finest homemade frozen treats at home! This fully automatic Cuisinart frozen yogurt, ice cream and sorbet maker lets you make your favorites in 20 minutes or less, with no fuss and no mess. Just add ingredients to the bowl, press on and the machine does the rest. Featuring:
patent-pending mixing paddle
large capacity that makes up to 1.5 quarts
double-insulated freezer bowl that eliminates the need for ice
easy-lock lid with large spout that makes adding ingredients simple and mess free
measures 10x10.25x15"
Made for US standard 110 voltage. Converter required for international voltage (220V, etc.).
Julia Child let people in on the Cuisinart secret and so did James Beard. They were among the first culinary experts to hail the food processor as a revolutionary kitchen appliance when it was introduced to America in 1973 by the late Cuisinart founder, Carl Sontheimer. They saw the food processor as a quick and easy way to make fine food and healthy dishes.

Our Mission is to help you "Savor the Good Life®." Under management from Conair Corporation since 1989, the legacy is alive and well, as today, Cuisinart is a universally recognized name. The prestigious Cuisinart brand is not limited to food processors. Plugged or unplugged, nobody covers the kitchen like Cuisinart. The company is a full-service culinary resource with a wide array of products, preferred by chefs and favored by consumers.
Ratings & Reviews
4.82
Rated 4.82 out of 5 stars
Rated 4.82 out of 5 stars
Rated 4.82 out of 5 stars
Rated 4.82 out of 5 stars
Rated 4.82 out of 5 stars