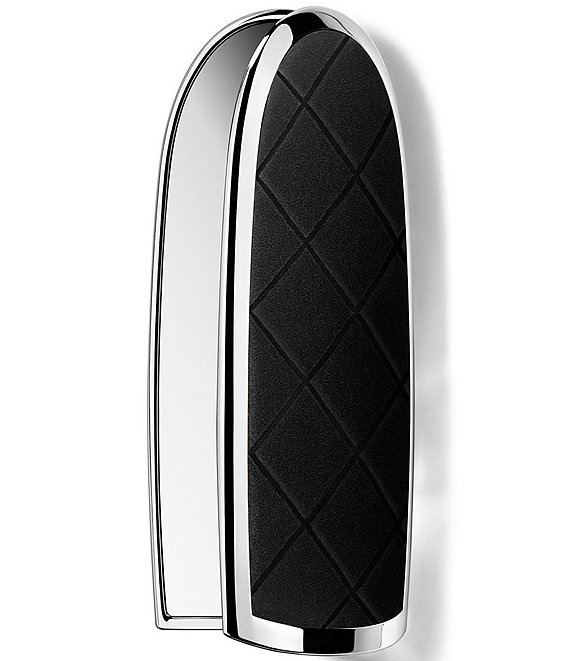 Guerlain
Rouge G Fashion-Inspired Luxurious Velvet Lipstick Case
Rated 4.5 out of 5 stars
Rated 4.5 out of 5 stars
Rated 4.5 out of 5 stars
Rated 4.5 out of 5 stars
Rated 4.5 out of 5 stars
36 Reviews
Rated 4.5 out of 5 stars
What It Is:
A luxurious, double-mirrored lipstick case available in a range of quintessential chic Parisian styles, inspired by high-end fashion. Pair with any Rouge G Lipstick (sold separately) shade to design your complete lipstick.
What It Does:
This jewel-like case suits every occasion and personality with a range of luxurious fashion-inspired velvet patterns to transform your lipstick into a couture collectible. Eco-designed by Parisian jeweler Lorenz Bäumer, each elegant fashion-inspired case pairs seamlessly with any double-mirrored Rouge G Lipstick shade for an easy application on-the-go.
How to Use:
Double mirror opens as the Rouge G Customizable Lipstick is removed from its case.
Apply Rouge G Lipstick (sold separately) directly to lips.
The bullet's ergonomic design allows for ultra-precise application for a flawless, lip-enhancing result.
Guerlain has been creating exceptional ​Fragrance and Beauty products since 1828 ​and strives to preserve, develop and transmit ​this unique heritage. ​

In the Name of Beauty, we act by elevating Nature to an Art ​and commit to passing on its wonders to future generations, with the Bee as sentinel. ​

We involve and unite our clients and partners ​that share the same vision, in order to imagine and shape a more beautiful and sustainable world together.
Ratings & Reviews
4.5
Rated 4.5 out of 5 stars
Rated 4.5 out of 5 stars
Rated 4.5 out of 5 stars
Rated 4.5 out of 5 stars
Rated 4.5 out of 5 stars