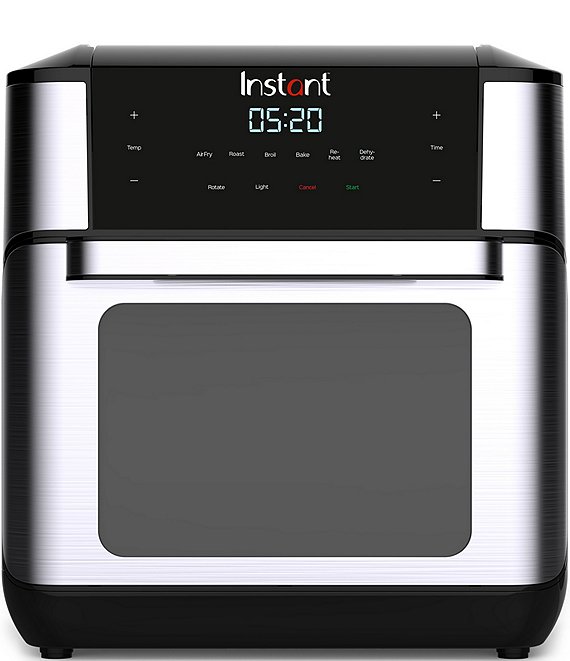 Instant Pot
Vortex Plus 10-Quart 7-in-1 Air Fryer Oven
Rated 4.64 out of 5 stars
Rated 4.64 out of 5 stars
Rated 4.64 out of 5 stars
Rated 4.64 out of 5 stars
Rated 4.64 out of 5 stars
42 Reviews
Rated 4.64 out of 5 stars
Create healthier versions of all your family's favorite fried foods. From fresh or frozen, from air fry to rotisserie — the Instant™ Vortex™ Plus 10-Quart 7-in-1 Air Fryer Oven crisps to perfection with little or no oil. Experience a world of flavor with the touch of a button. Use the preset Smart Programs to easily roast, broil, bake, reheat, air fry, dehydrate or cook on a rotisserie. Reheat leftovers in a jiffy. Simple touch controls are easy to use. And the Instant™ Vortex™ Plus Air Fryer Oven remembers your settings. Combine space efficiency on your countertop with versatility and say goodbye to your microwave, pizza oven, convection oven, dehydrator and toaster. Anything they can do the Instant™ Vortex™ Plus Air Fryer Oven can do better.
All the flavor of deep-fried cooking, without the oil and mess. Get crispy on the outside, tender on the inside perfection every time
7 built-in Smart Programs to air fry, bake, roast, toast, broil, dehydrate and rotisserie
One-Step Even-Crisp TechnologyTM allows you to achieve a crispy outside and tender inside. Whether you tumble-fry in the rotating basket or roast meat rotisserie style, deliciousness is guaranteed
With little to no preheating time, you can whip up dinner in half the time of a conventional oven, without heating up the whole kitchen. Plus, you can fit both cooking trays at once to make multiple meals in one go.
Minimal grease means minimal mess. Sleek surface wipes clean. Plus, the drip pan, cooking trays, rotisserie basket, rotisserie spit and forks are all dishwasher safe.
Imported.
DMS: 0725 175 140-3000-01
Cooking with an Instant Pot is everyday magic.

We created a remarkable kitchen appliance that prepares healthy and delicious meals, simply and quickly. Shortly after its release, the Instant Pot became America's most-loved multicooker, and one of the best-selling small kitchen appliances in the world. It has grown a global community of home cooks and food lovers, whose passion for the Instant Pot has inspired countless recipes, books, and online forums. It now spans dozens of models, with new functions and uses constantly in development. The Instant Pot simplifies the joys of home cooking, promotes healthy lifestyles, and gives you more time to relish great meals with the people you love.

Instant Brands continues to grow with revolutionary multifunctional air fryers and cooking blenders. Combining consumer friendly technology with a passion for good cuisine, we are committed to helping people worldwide get healthy and delicious meals on the table, quicker and easier than ever before.
Ratings & Reviews
4.64
Rated 4.64 out of 5 stars
Rated 4.64 out of 5 stars
Rated 4.64 out of 5 stars
Rated 4.64 out of 5 stars
Rated 4.64 out of 5 stars