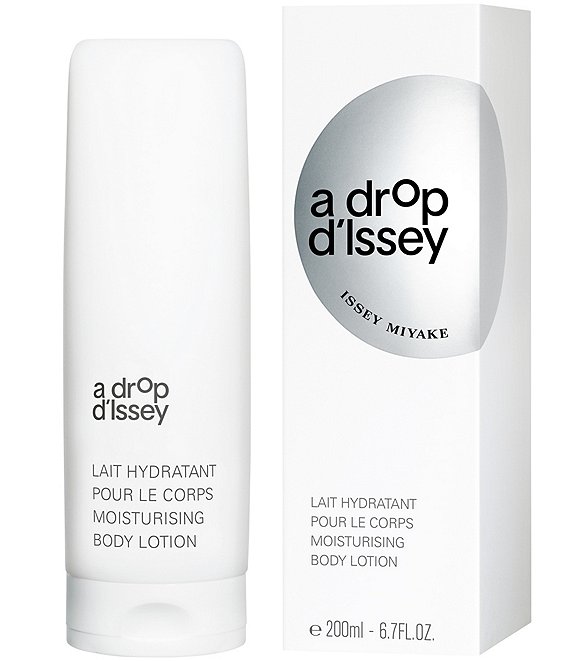 Issey Miyake
A Drop d'Issey Hydrating Body Lotion
Enjoy the lingering musky floral fragrance of A Drop d'Issey Eau De Parfum in a hydrating body lotion.
With its light and pleasant texture, this body care product glides on easily and is absorbed quickly to quench the skin, leaving it supple, soft and comfortable with no feeling of oiliness or stickiness.

A Drop d'Issey hydrating body lotion has a musky floral fragrance. The top note is delicately floral with pure, clear, damask rose. The middle notes magnify solar, floral lilac enveloping with hints of almond milk accord and ethically sourced orange blossom note. The base notes round out the fragrance with a musky accord of cedar wood and vanillin.

6.7-oz.
DMS: 0070 421 31800232101
ISSEY MIYAKE PARFUMS launched its first fragrance, L'EAU D'ISSEY, in 1992. "L'eau" is French for "water", and water itself was the inspiration for L'EAU D'ISSEY. ISSEY MIYAKE's view of water as a material was the starting point for the fragrance, which had a lasting impact on the perfume world. Developed jointly by MIYAKE DESIGN STUDIO and BEAUTE PRESTIGE INTERNATIONAL in France, these fragrances are produced by the same principles as ISSEY MIYAKE's clothing design: constantly bring new fragrances that are fitting for contemporary life, based on the concept of pursuing one's true nature.
Ratings & Reviews
No reviews
Rated 0 out of 5 stars
Rated 0 out of 5 stars
Rated 0 out of 5 stars
Rated 0 out of 5 stars
Rated 0 out of 5 stars