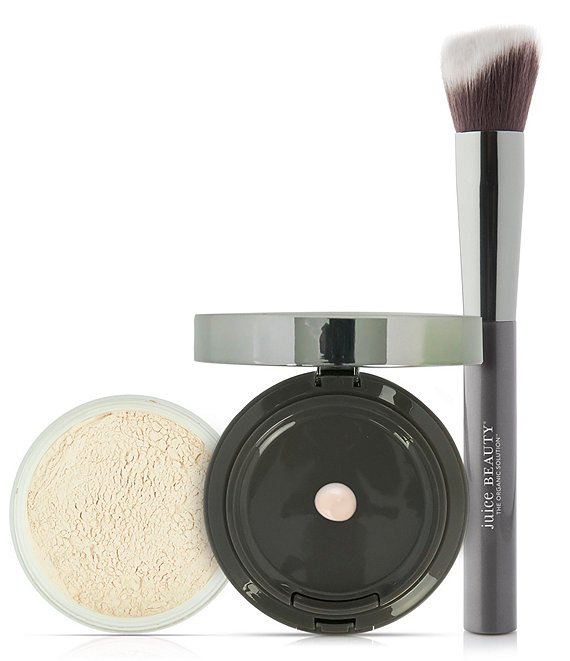 Juice Beauty
PHYTO-PIGMENTS Flawless Complexion Trio
A Dillard's Exclusive!
Vegan & Cruelty-Free. Refine your complexion with Juice Beauty's Phyto-Pigments Flawless Complexion Trio featuring Youth Cream Compact Foundation, Flawless Finishing Powder, and Sculpting Foundation Brush.
PHYTO-PIGMENTS Youth Cream Compact Foundation: This hydrating, balm-like foundation made with plant-derived pigments of rose and lotus is dispensed from a unique airless compact to maintain formula potency, provide no spill, and serve as a built-in mixing palette. This medium-coverage cream foundation blends in beautifully leaving skin looking dewy, luminous and smooth. Press the button (after firmly & slowly priming) for a light touch of foundation,press again for buildable coverage. Formulated with coconut alkanes and grape seed oil instead of silicones and petroleum byproducts, the antioxidant-rich technology provide comfortable wear on-the-go. Customizable for alternative finishes using the Phyto-Pigments Juice Boosts.
PHYTO-PIGMENTS Flawless Finishing Powder: Ultra-fine loose powder provides sheer, luminous coverage, setting and perfecting makeup as it evens skin tone. Plant-derived Phyto-Pigments disguise imperfections without emphasizing lines. Contains the Juice Beauty exclusive Moisture Powder Blend (vegetable glycerin, argan & phospholipids) to increase skin hydration and the Juice Beauty Phyto-Pigments exclusive blend of rose and purple carrot.
PHYTO-PIGMENTS Sculpting Foundation Brush: Unique wedge-shaped foundation brush designed to create a super smooth, flawless and skin-perfected finish. The tapered, angled slant fits every corner of the face allowing for controlled blending and streak-free application. Densely-packed, luxuriously soft bristles made with 100% taklon non-animal fiber, hug facial contours to create a smooth and perfectly blended finish.
11 Rosy Beige Foundation , 0.46 fl. oz.01 Translucent Powder, 0.24 oz. 0090 301 PP-BUN024
We are pioneers who believe in transformation without compromise.

We are radically transforming the chemistry of beauty by providing clinically validated, authentically organic beauty products.

Our Northern California team approaches beauty from a wellness point of view so our customers win with: High-performance skincare & vibrant makeup, Healthful ingredients so every drop feeds your skin, Organic farming & sustainability.
Ratings & Reviews
No reviews
Rated 0 out of 5 stars
Rated 0 out of 5 stars
Rated 0 out of 5 stars
Rated 0 out of 5 stars
Rated 0 out of 5 stars