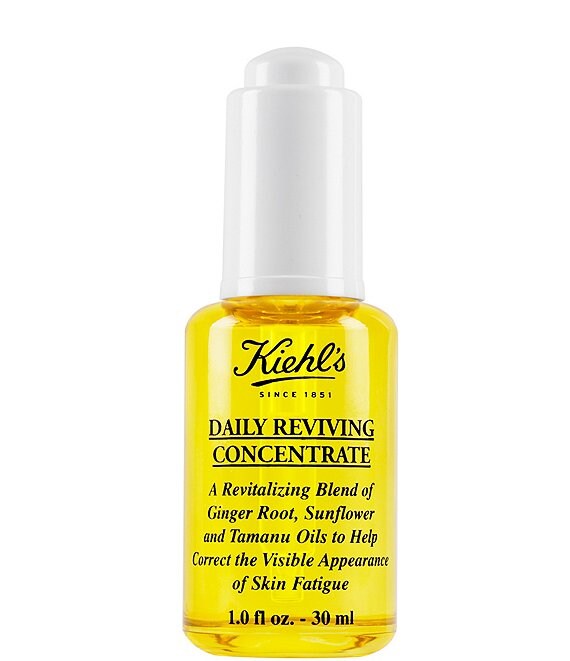 Rated 4.29 out of 5 stars
Rated 4.29 out of 5 stars
Rated 4.29 out of 5 stars
Rated 4.29 out of 5 stars
Rated 4.29 out of 5 stars
323 Reviews
Rated 4.29 out of 5 stars
Lightweight facial oil that keeps skin looking radiant all day.
strengthens skins defenses against daily aggressors to keep skin youthful and radiant-looking all day
provides antioxidant protection with a powerful blend of naturally-derived oils, including Ginger Root, Sunflower and Tamanu, to help skin feel fresh and look energized morning to night
paraben-free; 100% natural origin; mineral oil-free; non-comedogenic; non-acnegenic
Made in USA.
How to Apply: Lightly pat several drops all over face in upward circular motion, avoiding the immediate eye area. Use every morning, after appropriate concentrated serum and before appropriate moisturizer and daily sun protection. For optimal results, pair with the nighttime use of Midnight Recovery Concentrate.
The original Kiehl's apothecary first served patrons in 1851, at the corner of 13th Street and Third Avenue in New York City.

In 1894, after honing his trade as an ambitious apprentice, pharmacist John Kiehl purchased the apothecary. John Kiehl & Co. began operations under "Kiehl Pharmacy."

Mr. Irving Morse, John Kiehl's apprentice, took over the business in 1921 and expanded the offerings to a full-service pharmacy, stocking teas, herbs, tinctures, honeys, and the first-ever Kiehl brand products, including the Original Musk Oil, our signature scent.

In 1924, Kiehl's became one of the first companies to proudly list ingredients on its product labels — even before the U.S. government mandated it — to help customers make more informed and confident purchasing decisions.

Kiehl's Pharmacy began introducing bold new products in 1962, such as Calendula Herbal-Extract Toner, Blue Astringent Lotion (loved by Andy Warhol), Kiehl's Lip Balm #1, and Ultra Facial Moisturizer — all still among our best sellers today.

In 2006, Kiehl's introduced Dermatologist SolutionsTM, a collection of advanced skincare formulated by Kiehl's chemists (and developed in collaboration with an advisory panel of leading dermatologists) to address specific skin concerns.

Today, our nature-inspired, scientifically-proven formulas are powerful yet safe and help improve overall skin quality for visibly healthier-looking skin.
Ratings & Reviews
4.29
Rated 4.29 out of 5 stars
Rated 4.29 out of 5 stars
Rated 4.29 out of 5 stars
Rated 4.29 out of 5 stars
Rated 4.29 out of 5 stars