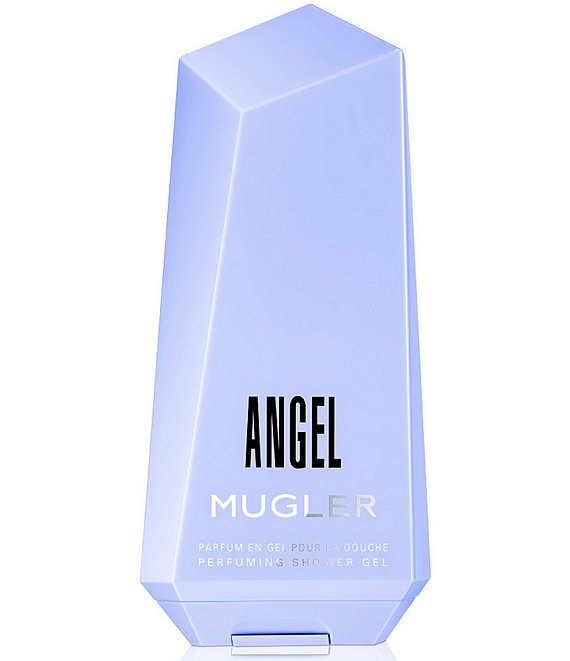 Mugler
Angel Perfuming Shower Gel
Rated 5 out of 5 stars
Rated 5 out of 5 stars
Rated 5 out of 5 stars
Rated 5 out of 5 stars
Rated 5 out of 5 stars
2 Reviews
Rated 5 out of 5 stars
Take the scent of Angel under the shower with MUGLER's Angel Perfuming Shower Gel.


This fluid, blue-toned gel transforms into a fine, creamy mousse and invigorates the skin with its intense Angel fragrance. Angel Perfuming Shower Gel gently cleanses while respecting the skin's pH.


Discover the intoxicating, gourmand trail of Angel! A moment of relaxation and freshness that's deliciously Angel!


Fragrance notes: bergamot, tropical fruits, vanilla, caramel and patchouli.
MUGLER was established by the creative visionary Manfred Thierry Mugler.

He launched his first Ready-to-Wear Fashion collection in 1974 followed by his first Fragrance, the Oriental Gourmand Angel perfume, in 1992.

MUGLER has established a unique culture of craftsmanship.

Each piece, whether it be in Fashion or Fragrances, is marked by a universal creative force. MUGLER's craft is masterful and multidisciplinary. Our creative process tells a unique story, a narrative nourished by the need to be extraordinary.
Ratings & Reviews
5
Rated 5 out of 5 stars
Rated 5 out of 5 stars
Rated 5 out of 5 stars
Rated 5 out of 5 stars
Rated 5 out of 5 stars