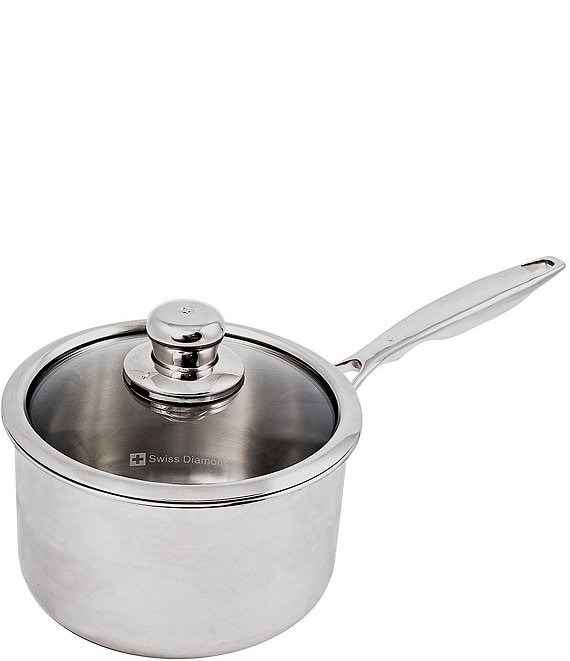 Swiss Diamond
Premium Clad Stainless Steel Covered Saucepan
Designed to make your cooking experience more enjoyable, the Swiss Diamond Premium Clad Stainless Steel Covered Saucepan offers performance and style. Featuring a satin exterior finish, it can be used on all stove types and has interior capacity markings.
Bring style and performance to your kitchen with the Swiss Diamond Premium Clad Stainless Steel Saucepan
Perfect for simmering soups or steaming vegetables
5 layers comprised of an 18/0 magnetic stainless steel base layer, alternating pure and alloy aluminum, closed with an 18/10 stainless steel layer with Swiss Diamonds nonstick coating
Special construction combine d with coating enables cooking with even heat distribution without hotspots and the cookware will never warp or bend
Durable stainless steel design with encapsulated aluminum core efficiently conducts heat
Stainless steel interior will not react with and alter the taste of food
Spot -welded ergonomic handles stay cool to the touch on a cooktop
Tempered glass lid
Interior capacity markings
Satin exterior finish from top to bottom
Stainless steel, tempered glass and aluminum construction
Oven safe to 500°F (260°C)
Stove Top Suitable for Electric, Gas, Glass-Ceramic, Induction
Dishwasher safe; hand wash recommended
Approx. 7"; capacity 2.6 qt.
Approx. 8"; capacity 3.75 qt.
Limited lifetime manufacture's warranty
Imported.
DMS: 0724 015 SDCLAD31118I
Swiss Diamond can trace its roots back to 1974, Sierre, Switzerland, as a scientific research company exploring new materials and surface coatings. Fast forward a few years to 2001, when a revolutionary nonstick coating suitable for use on cookware was developed, which led to the creation of SMB Group. In 2017, after years of additional research and exhaustive testing, Swiss Diamond® engineers improved their revolutionary coating by 40 percent overall, leading to various awards and world-wide recognition. To this day, all products designed by Swiss Diamond® are manufactured with this cutting-edge "XD" nonstick surface coating.
Ratings & Reviews
No reviews
Rated 0 out of 5 stars
Rated 0 out of 5 stars
Rated 0 out of 5 stars
Rated 0 out of 5 stars
Rated 0 out of 5 stars